Sweet grapes balanced with citrusy aloe
Hyde Vape, with its exciting range of fantastic tastes and flavors, is easily a big hit with cloud chasers across the world. If you've tried the delicious fruits and dessert flavors, you'll agree that the brand impresses. Every. Single. Time. And, if you haven't tried Hyde flavors, you're truly missing something awesome.
Choose from an Exciting Selection of Flavors to Suit Every Palate
There is a fantastic selection of flavors, and you're sure to find something you love. Although the most popular are fruity flavors, you'll love to experiment with dessert vapes, breakfast vapes, and summer coolers. These options mimic the all-time favorite chilled sodas and beverages that refresh you on a hot summer day. Ready to explore some more?
Breakfast Vapes
Cinnamon Banana – It's the perfect start to an energetic day. Cut up a ripe banana into your bowl of cereal, top with thick creamy milk and sprinkle with cinnamon powder. It's the perfect complement for your morning coffee. Or, just take a draw from your disposable vape when you're pressed for time.
OJ – Think of a tall glass of orange juice with a generous helping of ice to refresh you on a hot summer day. Or, as an accompaniment to the other breakfast vapes from Hyde. It's totally distinct from its Sparkling Orange, but every bit as enjoyable, if not more.
Loops – Yep! You guessed it! This one's about your favorite breakfast cereal. Who says adults can't enjoy those rainbow-colored rings doused with creamy milk? When you want to take a trip back to childhood, try this vape instead.
Fruity Salads
Mango – If you love tropical fruits, your first choice would certainly be Mango. Interestingly, the king of fruits is available in close to 1,000 varieties. But, for now, let's just go with straight Mango.
Strawmelon Apple – Here's one Hyde flavor that tantalizes with its unusual blend of fruits. Think of a bowl heaped with strawberries, melons, and apples. Each flavor standing out yet blending in.
Peach Mango Watermelon – If you enjoy fruit salads, here's another one you must try. Golden peach chunks, golden mangoes cubes, and golden watermelon. No, we didn't get that wrong. Yellow watermelons do exist.
Strawberry Banana – Unusual for a vape flavor, but absolutely delightful. Rich, creamy bananas vying for attention with the tart crispiness of strawberries.
Pineapple Peach Mango – If you love the medley of golden fruits, we have an interesting combination for you. Try a blend of pineapple, mango, and peach and enjoy the different textures and flavors caressing your taste buds.
Wild Golden Apples – You'll love the crispy texture of wild apples that fill your mouth with sweet, tart juice. This Hyde flavor pays homage to apple lovers.
Peach Mango – Here's another tropical fruit medley for vapers who want to take a quick all-expenses-paid trip to the sunny climes of Hawaii – without missing work.
Aloe Grape – Utterly original and unusual, but one of the current favorite Hyde flavors. You could try this one just for the fun of it. And, it certainly won't disappoint.
Honeydew – Hyde has managed to pick up the perfect essence of the honeydew melon fruit and squeeze it into this sleek little vape pen. It's not overpowering but does remind you of a fruit punch each time you inhale and exhale.
Raspberry Watermelon – Trust Hyde to come up with unusual combinations, and this one doesn't fail to impress. Expect to taste both raspberry and watermelon flavors distinctly with a perfect balance of the two fruits.
Strawberry Kiwi – Fruit lovers, you're in for a treat. Hyde swears by its interesting and exciting blends of fruits, and this one is a treat for your senses. Taste the sweetness of strawberries along with the tartness of kiwis, both subtle, both amazing.
Summer LUV – This new flavor from Hyde tantalizes and keeps you guessing. It's almost hard to place and describe, but suffice to say that it packs in a bunch of fruits with a topping of chilled ice. And, yes, the citrus fruit hints stand out the best.
Chilled Slushies
Pineapple Ice – Taste the tartness of pineapples blended with ice. The chilled sensations seem to heighten the sweetness and tang just a little more. Hard to set down!
Lush Ice – In case you've ever noticed, watermelons are perfect for converting into slushies because of their high water content. The entire drink is like pure ice that jolts your taste buds. Just like each whiff of any of the Hyde flavors.
Mango Ice – No slushie menu would be complete without the option of chilled mangoes and ice, balancing the sweet tastes with refreshing coolness. Incredible – to say the least.
Blue Razz Ice – After the overwhelming response to the Blue Razz, expect Hyde to develop an improvement for all their fans who loved the ice collection. Combining the two ideas into one is certainly the best taste ever, and scores every time. Sip on the classic beverage with a ton of crushed ice. Yummm!!
Cola Ice – No movie-watching experience is complete without the all-time favorite staple of chilled soda and popcorn. And, that's where this flavor from Hyde takes you in an instant. Does it taste good? Absolutely! With the perfect blend of sweetness and icy cool sensations.
Sour Apple Ice – Here's another ice variation from Hyde. Chilled tart apples with a unique twist that only Hyde can add. Expect the unexpected from what should just be sour green fruit.
Delicious Dessert Vapes
Krazy Kustard – When you have a craving for this sinful dessert, but can't find one, switch to Hyde flavors. Prepare to be amazed at the ingenuity of how a vape e-juice can soothe your sweet tooth.
Lemon Crumble – How do the developers do it? That will probably be your first question. Each whiff of this e-juice flavor feels like you're digging into the sweet-sour tastes of a lemon tart complete with the crispy pastry. Don't be surprised if you can't wait to place the next order, in case you run out.
Mango Peaches & Cream – If you loved the classic Strawberry and Cream from Hyde, you're going to welcome the new version with mangoes and peaches. Taste the richness of thick cream balanced with the sweetness of the king of fruits and the tartness of peaches.
Summer Coolers and Beverages
Pink Lemonade – One of the most fabulous flavors, Pink Lemonade takes you back to your childhood when you set up chilled lemonade stands and ended up drinking most of it yourself! More than your taste buds, this one is also a celebration for your eyes.
Cherry Lemonade – Yet another variation of the traditional lemonade, this one combines the unique sweetness of cherries combined with lemon and sugar. You'll love it!
Honeydew Punch – You're probably familiar with the typical summer fruit punches that you loved as a child. Now imagine, honeydew melons dominating the taste. It never ceases to amaze.
Sparkling Seltzers – This Hyde flavor is specially designed for people who love the bubbly, spritzy taste of citrus orange seltzers.
Cherry Peach Lemonade – There's your classic lemonade, and then there's a fantastic array of fruits vying for attention in this summer vape. Taste cherries and peaches refreshing your senses with the lemon adding the right amount of zing.
Sparkling Orange – This one is just what the name suggests regaling your senses with the taste of the orange citrusy soda with just the right amount of bubbles to tickle your nostrils.
Minty O's – If you absolutely must have your after-dinner mint, reach for your Hyde instead. It's sweet and minty and refreshes you quickly. And, if you're looking for a palate cleanser in between courses at dinner, take a quick, discreet whiff.
Pina Colada – If you purchased this one thinking of that all-time refreshing summer cooler, you're in for a surprise, because the Pina Colada is something else. To say that it's delicious would be an understatement, but it's distinctly unusual for sure.
Refreshing Herbs
Spearmint – Just about every vaping e-liquid brand has its own version of the classic Spearmint. If you're expecting something very normal, prepare to be surprised. This Hyde flavor has added that special something that sets it apart from the rest.
The Candy Collection
Peach Gummy – We like to think that the flavor developers at Hyde are listening because here's another variation in the unusual gummy collection. Pop a chewy candy dripping with the goodness of peaches.
Tropical Gummy – Take a whiff of the Tropical Gummy from Hyde and you will be startled by the texture of gummy candy rolled into a vape. If you're a fan of Hyde's Neon Rain, you'll love this version of the rainbow candy.
And, Some Unique, Some Expected Flavors
Fire & Ice – Red hot peppers light your tongue on fire. But, immediately, icy cold water tempers it to startle your senses. Our users are not quite sure whether they like it. But, they can't seem to get enough of it. Fire & Ice is one of the most preferred Hyde flavors you'd want to try.
Tobacco – This one makes it to the list of every vaping e-juice brand out there. When you're trying to quit smoking, it's understandable that you absolutely need to taste tobacco to satiate your nicotine cravings. Go ahead and indulge without worrying about the harmful effects of tar and 7,000 other toxins.
Neon Rain – Exciting and completely unusual. You can tell that their passionate about each flavor it develops. That's how they come up with fantastic flavors like these.
The Brand-New Menthol Collection
If you enjoyed the Spearmint from Hyde, the new menthol collection is every bit as tantalizing and exciting. And, if you thought you've tried just about every icy flavor, Hyde surprises with not one, but five new variations that are sure to chill your tastebuds and blow your mind.
Polar Menthol
Glacier Menthol
Arctic Menthol
Ice Menthol
Black Ice Menthol
Looking for Nicotine Replacement Therapy Options?
Die-hard tobacco lovers who absolutely need the taste of authentic cigs have appreciated the newest collections from Hyde, namely the Tobacco series. Quitting smoking has never been easier thanks to this new range that tastes and smells exactly like the real thing.
Bold Tobacco
American Tobacco
Rich Tobacco
Gold Tobacco
Smooth Tobacco
Energy Drinks to Recharge Your Day
Power – Here's another energy drink flavor that packs the right amount of punch. Have a taste, and prepare to be pleasantly surprised at the ingenuity of the flavor developers at Hyde. Who would have thought that a vape could be as refreshing as a power-packed beverage?
Energize – Looking for an instant pick me up after a hard day at work? What you need is an energy drink that revitalizes and refreshes you in an instant. and, no, we're not talking about an energy drink, we're talking about this new flavor from Hyde. Each time you inhale, you'll sense the sweetness of a ripe red apple topped with ice.
Let's Talk About the Fastest-Moving Hyde Flavors
While every one of Hyde flavors is unique and enjoyable, we've picked out the top 3 options that our fans have absolutely loved.
Banana Ice
Think luscious tropical fruits doused in a generous heap of icy crystals. Each whiff takes you on a journey across the planet with stops in the sunny climes of the tropics and chilly winds of the poles. The flavor is exciting, unusual, and shocks your taste buds because it is so unexpected. Banana Ice is truly one of the all-time favorite Hyde flavors.
Strawberries and Cream
This one's all about the classic dessert that is impossible to resist. Dig into a bowl of luscious red strawberries immersed in a generous helping of rich, thick, frothy cream. This all-time decadent sweet treat is just right for a quick pick-me-up when you're feeling low. What if you could vape this fantastic taste with just a draw of your disposable?
Blue Razz
The Blue Razz brings back pleasant memories of the 90s beverage combining the sweet-sour tastes of ripe blueberries blended with red raspberries. Sip on the razzle-dazzle of the blue soda with each whiff of this Hyde flavor. The taste refreshes and delights you utterly.
There's More than the Standard Positives You Know About
Why would you want to try the disposables' range of vapes? Easy to use. Sleek with smart aesthetics. Fuss-free and eliminating the need for refilling. Pre-loaded and charged. Long-lasting.
These are only a few of the positives that you're familiar with. The key feature that Hyde flavors' fans swear by is the smooth experience without the discomforting throat hit. You'll get rich clouds and vibrant tastes with none of the bitterness that typically accompanies vaping with other brands. Have you wondered why? Let's find you some explanations.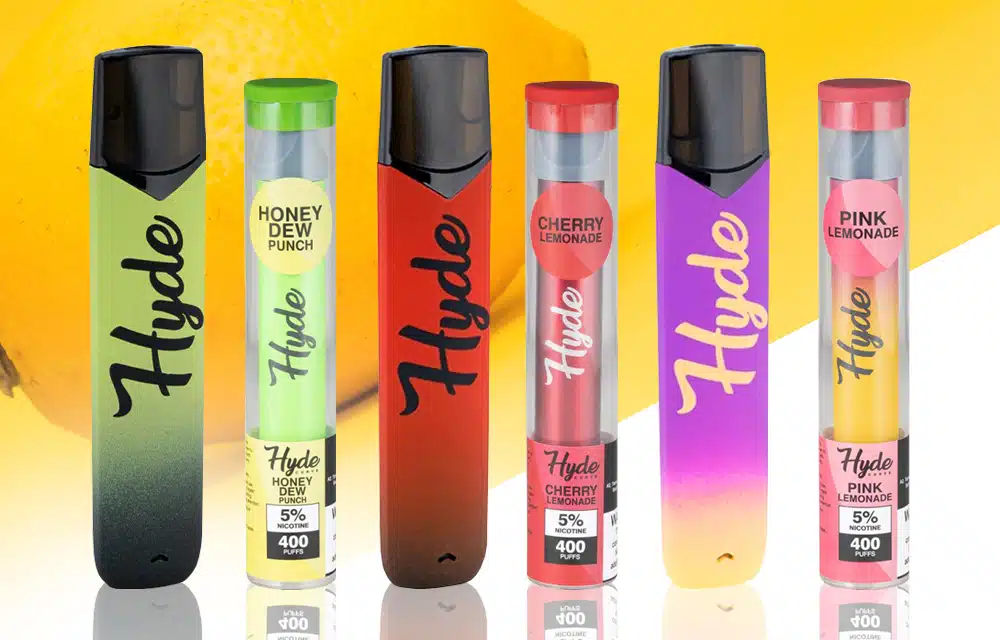 Hyde Flavors All Contain Salt Nic E-Juices Instead of Conventional Freebase Nicotine
Conventional e-juices and e-liquids contain freebase nicotine. However, salt nic e-juices are an advanced version of the compound. When nicotine is extracted from tobacco leaves, it appears in its purest form in a salt-like composition. To smoke or vape these salts, you would have to combust or burn them at very high temperatures.
Manufacturers add other ingredients so that the chemical structure is adjusted, one of them being ammonia. When ammonia blends with nicotine salts, it reduces some of the protons. As a result, the pH levels in the e-juice are raised. That's the reason why you can vape with nicotine-containing e-liquids – the tobacco burns at lower temperatures in your mods, squonks, or any other device.
But, that's also why you get that dry, rasping sensation when you vape – or smoke, for that matter. Nic salts is an advanced version that contains benzoic acid and citric acid instead of ammonia. The pH levels stay low, and while you can continue to burn the e-juice at lower temperatures, you won't get that throat irritation.
What you do get? Smooth, full-bodied Hyde flavors that soothe your senses. Each fruit, dessert, and summer cooler taste is clearly distinguishable. And this has never been clearer than in the new Hyde Plus.
There's just one downside, though. It's easy to get carried away and vape more than you intended. Vaping with Hyde flavors does not give you that peppery taste either. And, if the word, "salt" is misleading, know that the taste is definitely not salty.
E-Juices Enhance Your Vaping Experience
When you vape with Hyde flavors, you'll likely find that the entire experience is fantastic and your nicotine cravings are satiated with fewer puffs. Nic salts have a higher concentration of nicotine so you can get by with shorter vaping sessions. That's because the nicotine enters your bloodstream more quickly. If you've been trying to kick the smoking habit, this makes it really easy because once you get used to the fruity flavors, it's hard to go back to unpleasant cigarettes.
The entire package is just what you need. Delicious tastes that are easier on the pocket since each vape disposable vape pen is equivalent to 1500 puffs. The vapes last you far longer than a pack of smokes.
Ready to try the stunning collection of Hyde flavors? Visit us at Blackout Vapors and take a quick look around. If you would like to talk to a live agent, we have the chat function and a phone number: We also welcome queries on this page: Contact Us. Drop us a line and we'll get back to you soon.
Neon Rain Taste Review