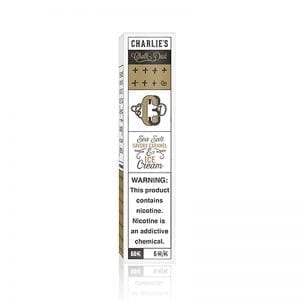 Charlie's Chalk Dust C3 60ML
$12.95
Sea Salt sprinkled throughout Savory Caramel, all swirled inside of a delicious Vanilla Ice Cream for a perfect sweet and salty mix.
70vg/30pg
60ML
Description
Charlie's Chalk Dust C3 60ML
Charlie's Chalk Dust C3 60ML is another delicious spin on a decadent Vanilla Bean Ice Cream flavor base. C3 mixes Caramel swirls inside this pint of simple sweetness and is topped off with just a few sprinkles of Sea Salt for a rich mixture of tastes. This is a flavor does more than satisfies a sweet tooth, thanks to the Sea Salt people can enjoy a smooth and creamy taste with just a tiny bit of bitterness to add some excitement.
Inhaling brings out the creamiest Vanilla Ice Cream flavor, feeling smooth and cool like a bowl of the real thing. Then, the Caramel undertones come through and just when you've grown fond of the sugary scenery, the Sea Salt shines through like little beacons of tanginess to balance everything out. Exhaling cools everything back down to the dairy goodness of Vanilla this e-liquid all began with, tasting like a spoonful of your favorite dessert. Charlie's Chalk Dust C3 60ML comes in a dropper bottle for easy pouring and is available in three varieties of nicotine levels to choose from.
Additional information
| | |
| --- | --- |
| Nicotine Level | |
| Brand | Charlie's Chalk Dust |
| Volume | 60ml |
| E-liquid Type | E-Juice |
| Flavor Category | Dessert |
FAQs