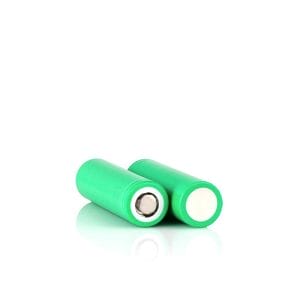 Samsung 25R 18650 2500mAh 20A Battery
The Samsung 25R is by far one of the best batteries out there for your mod. Not only is this battery long-lasting, it operates at a high capacity. This battery has stood the test of time and will deliver the power you need for a great vaping experience.
Description
If you've been looking for a battery that has proven itself over and over again, the Samsung 25R 18650 2500mAh 20A Battery should be on your radar. This battery has been on the market and is the most widely recognized and sold battery out there. That's because it lasts the longest and has a charge capacity of  2500mAh. This battery delivers the power you need to enjoy a long-lasting vaping experience.
The Samsung 25R Battery
This cell has stood the test of time and is one of the best vape batteries on the market. This 18650 battery has a large 2500mAh capacity and it comes with 20 amp maximum discharge.
The 25R is a mid-range power cell, but don't let that fool you because it is known for being able to balance between mid and high range application.
As far as batteries go, the Samsung 25R is highly regarded for its longevity and for its capacity.
Samsung 25R 18650 2500mAh 20A Battery Specs
Top: Flat Top
Capacity: 2500 mah
Max Continuous Rated Discharge: 20
Nominal voltage: 3.6v
After a fresh charge: 4.2v
Cycle info: Capacity drops to 60% after 250 full charge/discharge Cycles
Don't discharge below: 2.5v
Standard Charge: CC/CV @ 1 amp / 4.20 volts +/- .05v, 100 mA cut-off
(Max) Rapid Charge: CC/CV @ 4amps / 4.20 volts +/- .05v, 100 mA cut-off
Impedance: 22.15 +/- 2 milliohms
Weight: 45g
Height: 64.85 +/- 0.15mm
Diameter: 18.33 +/- 0.07mm
Operational Charging Temperature Range: 0 to 50 degrees C (best below 45 degrees C)
Operational Discharging Temperature Range: -20 to +75 degrees C (best below 60 degrees C)
Each Samsung25R comes with:
1 x 2-Pack of Samsung 25R 18650 Batteries
FAQs