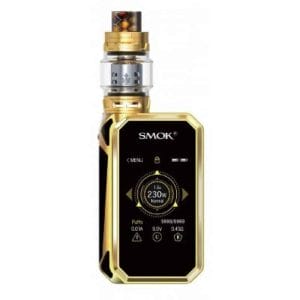 Smok G-Priv 2 Luxe Edition KIT with Prince Tank
$64.99
G-Priv 2 Luxe Edition is an advanced version of G-Priv 2. 
It is designed in a modern way, the unique prismatic appearance looks cool and can bring you excellent texture. 
Its 2.0 inch touch screen is highly sensitive, with simply touch you can get the information you want. 
And it has 230W high power, which can definitely satisfy the vapor chaser. 
More surprisingly, it uses revolutionary TFV12 Prince tank, which has unprecedented large capacity, unique Cobra drip tip and powerful cores. 
Try this new edition to enjoy better vaping time. Innovation keeps changing the vaping experience!
Out of stock
Description
6 COLORS AVAILABLE
THE KIT INCLUDES
SPECIFICATIONS
COMPONENTS
EASY-TO-READ MENU
VIRTUAL UP/DOWN BUTTON
Compared with traditional UP and DOWN buttons, virtual UP/DOWN buttons are more practical and simple.
Responsive screen touch area is easy to operate, and if there i s no operation they will fade out.
230W OUTPUT POWER
The max output power of G-Priv 2 Luxe Edition can up to 230 watt, which ensures longer vaping time and satis fies vapor chasers.
UPGRADING AND CHARGING
G-Priv 2 Luxe Edition supports firmware upgrading, you can use the included USB port to upgrade it.
 And there's no need to change batteries frequently, the mod can be recharged via the Micro-USB port.
MULTIPLE PROTECTIONS
G-Priv 2 Luxe Edition provides multiple types of protections to avoid potential risk s.
TFV12 PRINCE CORES
ADJUSTABLE AIRFLOW SYSTEM
Bring you an extremely open draw. 
Airflow can be adjusted freely by turning the ring at the base o f atomizer.
TOP REFILL SYSTEM
Top rotary refill makes filling a easy thing. Leak proof slot ca n significantly solve leaking problem.
[learn_more caption="WARNING"]
This product is intended for use by persons 18 or older, and not by children, women who are pregnant or breast feeding, or persons with or at risk of heart disease, high blood pressure, diabetes, or taking medicine for depression or asthma. If you have a demonstrated allergy or sensitivity to nicotine or any combination of inhalants, consult your physician before using this product. This product is sold purely for recreational purposes – it is not a smoking cessation product and has not been tested as such. You must be over the legal age in your state to buy or use this product.Nicotine is highly addictive and habit forming. Keep out of reach of children. This product contains Nicotine, a chemical known to the state of California to cause birth defects or other reproductive harm.
Lithium-ion batteries are volatile. They may burn or explode with improper use. Do not use or charge with non-approved devices.Do not leave charging devices plugged into computers, laptops or wall units when not in use. Overuse of vaping devices may cause overheating, malfunction, and/or burns or injury. Do not unit unattended while charging anytime or overnight, and do not charge it in your vehicle. Keep away from high heat, direct sunlight, cold temperatures, humidity and water. Injury or death can occur. Do not replace batteries with non-approved units. Do not mix new and used batteries or different brands. When charging keep away from flammable areas such as but not limited to wood floors and carpets. Always use a fire resistant container or bag. Always have a fire extinguisher in an event of a fire. Do not use battery or devices that appear damaged. Do not expose battery to direct sunlight. In the event battery begins to balloon, swell, smoke, or become very hot, immediately disconnect the power to home or office from the circuit breaker. If a circuit breaker is unavailable, disconnect from outlet. Do not approach the battery for at least 2 hours and ensure the room is ventilated. Do not drop, damage, or tamper with batteries. Always use a surge protector. Do not throw batteries into fire. Do not connect improperly. Do not charge batteries unless are specifically labeled as "rechargeable". Do not carry or store batteries together with a metallic necklace, in your pockets, purse, or anywhere they may be exposed to metals. Keep away from children and pets. Should a child/pet swallow or chew on a battery, immediately consult a physician and or call your local Poison Control Center. Always turn off vaping devices with on/off switches when not in use. Unplug charging units when not in use. Failure to follow warnings may result in electric shock, fire, property damage, bodily injury, or death. All Prices listed on the main site products are base prices. There may be slight increases on the prices when you add certain options. Blackout Vapors © 2018

[/learn_more]
FAQs