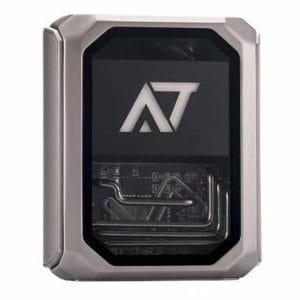 Wotofo Stentorian AT-7 Box MOD
$59.95
Wotofo Stentorian AT-7 Box MOD is a visually impressive device with chassis design that is noted for its engineering ingenuity. It is also equipped with a powerful PCB onboard chipset that can produce a maximum output of 100W. This is truly a vape mod device that impresses in terms of aesthetic and performance.
Description
Wotofo Stentorian AT-7 Box MOD
Wotofo Stentorian AT-7 Box MOD is a notable vape mod device known for its computer chassis design. This particular design idea is developed based on inspiration from PC gaming computers. The design was developed in California, while the powerful PCB onboard chipset ensures that the performance won't be a letdown. The chipset is also complemented by a brass radiation cooling circulation system.
Wotofo Stentorian AT-7 Box MOD is unique because of the transparent case design. Thus, you can see the inner workings and appreciate the engineering that went into the design of this vape mod device. The maximum output of 100W also promises no firing delay and an auto-adaptive smart power output. The latter is responsible for ensuring that the power and curve are adjusted automatically to ensure there is no resistance to the tank.
Designed with a built-in Li-Po 3500mAh battery, you must use the micro USB charging port in order to power this device. You will find this port on the back of the device. Aside from the micro USB port, the exterior of the device also features a colorful LED light on the PCB onboard chipset. This creates an interesting view of the chipset that is the base of this device, while also creating a futuristic design.
The device measures at a dimension of 90mm x 74mm x 32mm so it delivers adequate size without compromising on the ergonomic quality. It boasts of a wide range of protective features such as short circuit protection, low resistance protection, overtime protection, low voltage protection, over-charge/overheat protection, and more. You can therefore vape with confidence knowing that this device will do its job of securing a safe vape experience. Aside from one unit of this box mod, each package comes with a micro USB cable and user manual.
Specifications
Size: 90mm x 74.5mm x 30.5mm
Built-in 3500mAh LI-PO Battery
Smart Power Output
Powers up to 100W
Min Resistance 0.1 Ohms
Get the best vaping experience by matching optimal power automatically according to different ohms
Giant fire button on the left side
Short circuit protection and overtime protection (will not let device fire longer than 10 seconds)
Low resistance protection
Additional information
| | |
| --- | --- |
| Color | Black, White, Red, Gunmetal |
| Brand | Wotofo |
FAQs