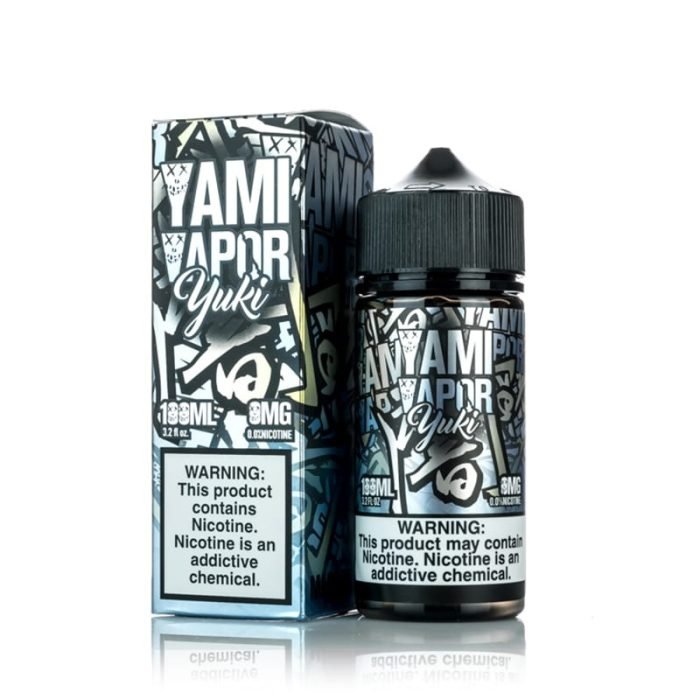 YAMI VAPOR – YUKI 100ML
$14.95
Yuki by Yami Vapor is composed of a revitalizing combination of invigorating menthol, freshly sliced passion fruit, sun-kissed orange, and freshly picked guava. A delicious Hawaiian POG flavor, Yuki by Yami is presented in ultra premium packaging.
Description
Yuki takes you back to the time in your childhood when you sipped on iced Slurpee's with the rush of chilled ice hitting your senses at the first whiff. This e-liquid is all about a bowl of fruits chilled to a point when ice crystals form from the juices. The menthol is so strong that you might just feel like you're getting the classic symptoms of a brain freeze. As the clouds start to go down, you'll start to identify the tastes of tangy fruits like fresh passion fruit cut into thin slices and oranges, a rich golden, like the rays of the setting sun. Amidst the delightful medley, you'll also detect guavas, resplendent in rosy pink.
We have all-time fans fascinated by this e-juice from Yami Vapor that actually seems more like a perfume. If you're trying Yami for the first time, you might be concerned about liking it before investing in a 100ml bottle. Know that the brand is so confident that their flavors will be a hit, they serve up Chubby Gorilla 100mL bottles so that vapers won't have to worry about running out. Cloud chasers who love clean, fresh flavors with just the right bit of tang can never get enough of Yuki. This is one e-liquid that you'll absolutely want to add to your daily juice rotation. The perfectly balanced ratios of VG: PG of 70: 30 is an additional bonus.
Whether you're vaping just for the pure enjoyment of scented clouds in your mouth or to satiate your nicotine habit, Yami has something for everyone. You can order their vape juices with varying nicotine strengths ranging from 0mg to 3mg and 6mg. And, since Yami uses only premium, high-grade ingredients in their products, you can be assured of an exceptional vaping experience. The quality is one of the other reasons why you get dense clouds of vapor and a 100ml bottle seems to last and last.
Yami is well-known for their unusual and unique flavors that surprise and tantalize, and Yuki keeps up the reputation. It's high on the list of first choices for vapers, right up there with the other hot favorite like Yami Vapor Shaka. If you would like more information about the entire range of flavors from Yami that we have on offer, do contact us at Blackout Vapors. Talk to our team members, and we'll help you pick out the best e-juice that matches your particular tastes and vaping habits. Contact us today!
MADE IN THE USA
Additional information
| | |
| --- | --- |
| Nicotine Level | |
| Brand | Yami Vapor |
| Volume | 100ml |
| E-liquid Type | E-Juice |
| Flavor Category | Fruits, Menthol |
FAQs