Trying to find the perfect rechargeable vape pen can sometimes feel overwhelming.
With more options in vape pens than ever before, weeding through all the different brands, models and options can make a person's head start to spin. 
Is it better to choose discretion over fun graphics and packaging?
As more and more people are moving away from traditional cigarettes toward vape pens, there's more information than ever before about vaping devices and all the options that come with them. 
But – despite the fact that you have a world of options – there continues to be one disposable vape pen that continues to rise to the top of everyone's list…the Hyde Edge Recharge.
What Makes the Hyde Edge Recharge the Perfect Vape Pen?
When someone tries to describe what they are looking for most in a vape pen, it's common for the following characteristics to be listed:
Does this sound like what you're looking for?

If so, then the Hyde Edge Recharge is truly going to be the best vape pen for all of your needs.
The
Hyde Edge

Recharge is Easy to Use
Once you learn how to recharge a Hyde Vape, there is no doubt that you'll quickly realize how easy this vape pen is to use the moment you take your first puff. 
This means that as soon as you take it out of the package, this vape pen is ready to go!
What could be easier than that?
The Hyde Edge Recharge is Discreet While Also Being Powerful
Another huge perk to this pen is the fact that it is an incredibly powerful vape device, despite the fact that it fits easily in the palm of your hand.

In a time when vaping is not always accepted, being able to take a puff without calling attention to yourself is a big priority for many people.
But – oftentimes using a smaller vaping device means that you are going to have to compromise on how rewarding each hit actually is.
Not only does this slender chamber hold an impressive 3300 puff count within its tank, but each puff is incredibly satisfying.
Most users even say that they find the number of puffs they can get out of the Hyde Edge Recharge is sometimes even more than they advertise, and that the flavor never changes, even when they start getting toward the end of the disposable pen's life.
The
Hyde Edge

Recharge is Not Only Rechargeable but also Disposable
As the name implies, the Hyde Edge not only gives its users a reliably rechargeable vape pen, but it's also disposable as well.
Disposable vape pens allow the user to not have to mess with purchasing e liquid refills or worrying about a pen's e liquid capacity when having to refill it.
With a disposable vape pen, you know ahead of time how much e liquid is in the tank and how long it's going to take for it to run out.
Not only that, but with a disposable vape pen, there is no cleaning that needs to be done or concern over parts needing to be replaced.
There are also advantages to the vape pen being rechargeable.
All that is needed for the Hyde Edge to recharge successfully is a micro USB charger that fits easily into the micro USB port on the bottom of the vape pen.
Though the Hyde Edge Recharge has a significant battery life, it's nice to know that recharging it is no problem when and if you need to do so.
The Rechargeable Hyde Vape Pens Offer a Wide Variety of Flavors to Choose From
Finally, now that you understand more about the mechanics of the Hyde Edge, let's talk about the fun stuff…the flavors!
Maybe you want something fruity – like strawberry orange ice, strawberry banana, banana cherry, or apple peach watermelon.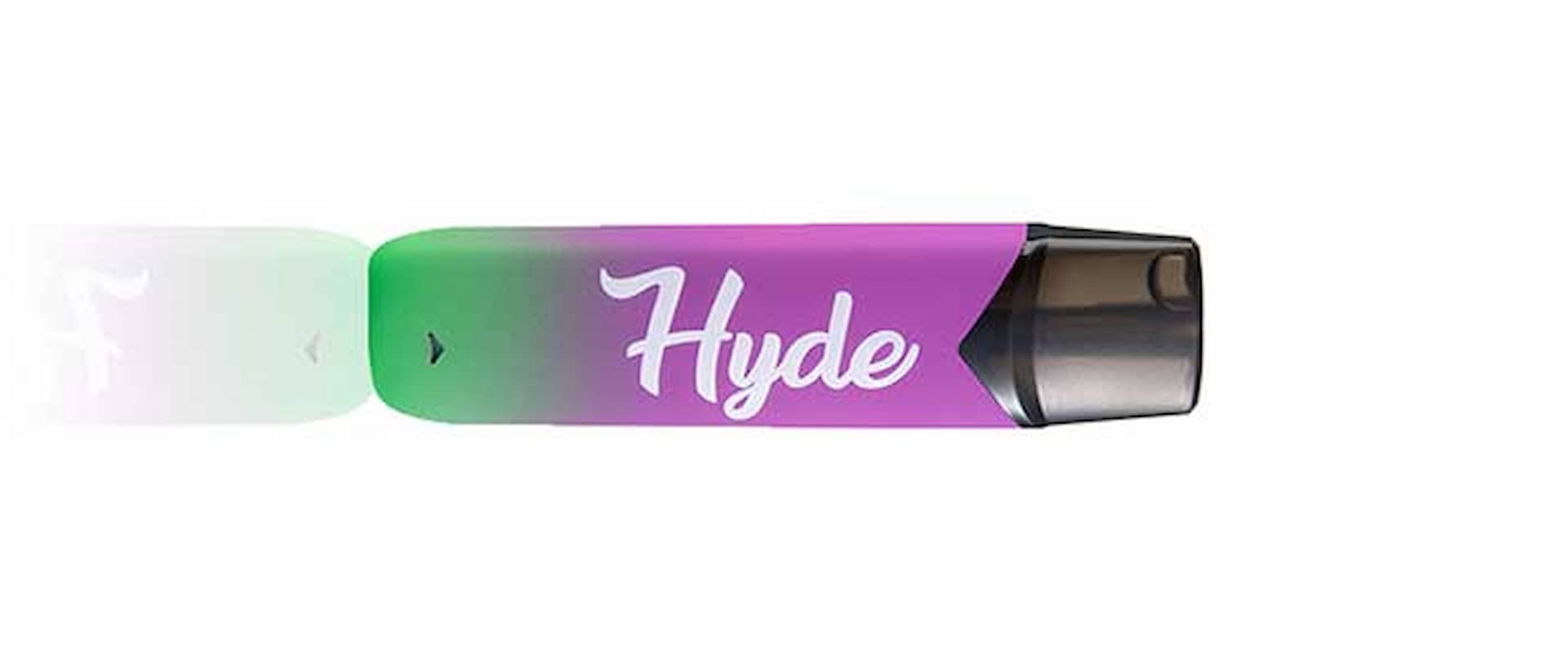 Perhaps your interests lie more in something creamy, like berry ice cream, watermelon ice cream, strawberry ice cream, or summer luv.
For those who want something refreshing, you may want to try cherry peach lemonade, raspberry watermelon, or pink drink.
Hyde vapes come in dozens of flavors, and this brand is always adding more. Regardless of what your taste buds are craving, you're going to be able to find a flavor that suits your taste in the Hyde vapes line of products.
Where Can I Buy My Hyde Recharge Disposable Vape Pens?
If you are ready to give the Hyde Edge a try, or want to check out one of Hyde's other popular vape pens, head on over to the Blackout Vapors Hyde vape pen page.
There, you can see all the different models that Hyde offers and check out more flavors as well.
You can also read more about different product specifications on each vape pen's page and make sure that the puff count, battery life, and nicotine content are what you're looking for.
When flavor and functionality are both important to you, check out what Blackout Vapors has to offer!