Sale!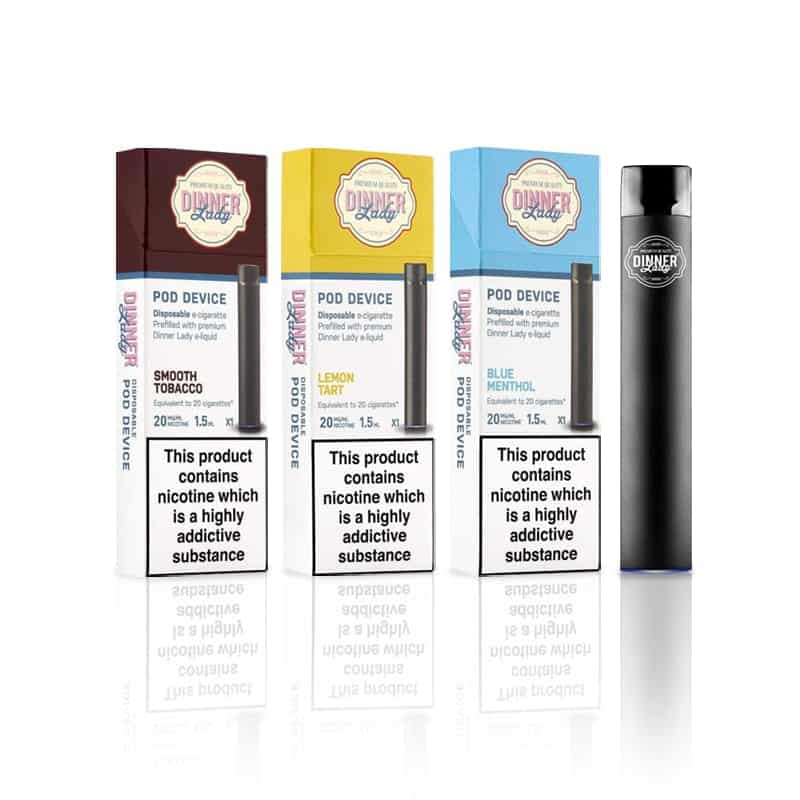 Dinner Lady Disposable Vape Device – 1.2mL
Dinner Lady Disposable Vapes provide all the flavor and longevity you want without the hassle. Available in five delicious flavors, with the staying power of a pack of cigarettes (300 puffs). Lightweight, durable with no refills or charging required.
Description
Dinner Lady Disposable Vapes are hugely popular and for good reason. They're a simple, one-and-done option for vapers. Just grab and go with no muss and no fuss. These vapes come in five different flavors perfect for any preference whether you like your vapes sweet or want that delicious tobacco taste without the risk.
No Muss, No Fuss
Lightweight and discreet, the Dinner Lady Disposable feels just like a cigarette but that one vape? It's the equivalent of a pack of smokes. No lost chargers, no broken parts and no messy refills: just take it and GO! We love the ease of disposables.
The no fuss approach of the Dinner Lady Disposable applies to flavors, too. There's just five choices which make it an easy go-to vape for everyone. Pick from two menthol options (regular and blue), two fruit-infused (Pink Berry and Lemon Tart) and standard tobacco flavor. The fruit flavors include decadent Lemon Tart and lively Pink Berry, perfect for those who love the dessert-themed flavors so popular in vapes these days.
Fresh Menthol: Fresh with a cooling quality, perfect for the fan of mentholated cigs trying to kick the habit or the vapor looking to enjoy a cold shot of freshness.
Blue Menthol: All of the cooling relief of Fresh Menthol but with a pop of minty sweetness. You know that feeling when you pop a fresh piece of gum? It's that, but every time you pull your vape!
Lemon Tart: Once you try this confectionary-inspired flavor you won't want anything else. The perfectly delightful tang of lemon balanced by a buttery, flaky crust. Perfect any time of day when your sweet tooth needs a fix.
Pink Berry: Berries with a hint of citrus to keep things lively, this is perfect for those who like it sweet but not too sweet and who don't like the cakey, yeasty flavor of dessert-based vapes but still want a sweet treat.
Smooth Tobacco: A smooth, bold alternative to cigarettes the flavor mimics the freshest, finest tobacco making it easy to make the switch!
Dinner Lady Disposable Specs
Choice of nicotine level and flavor.
1.2 ml pre-filled disposable vape device
organic cotton wick
durable aluminum case
ready right out of the pack, no charging necessary just remove rubber seal and sticker
transparent mouthpiece makes it easy to monitor
draw indicator light flashes once when empty
integrated 300mAh battery
Additional information
| | |
| --- | --- |
| Brand | Dinner Lady |
| Nicotine Level | |
| Flavor | Lemon Tart, Menthol, Tobacco |
FAQs