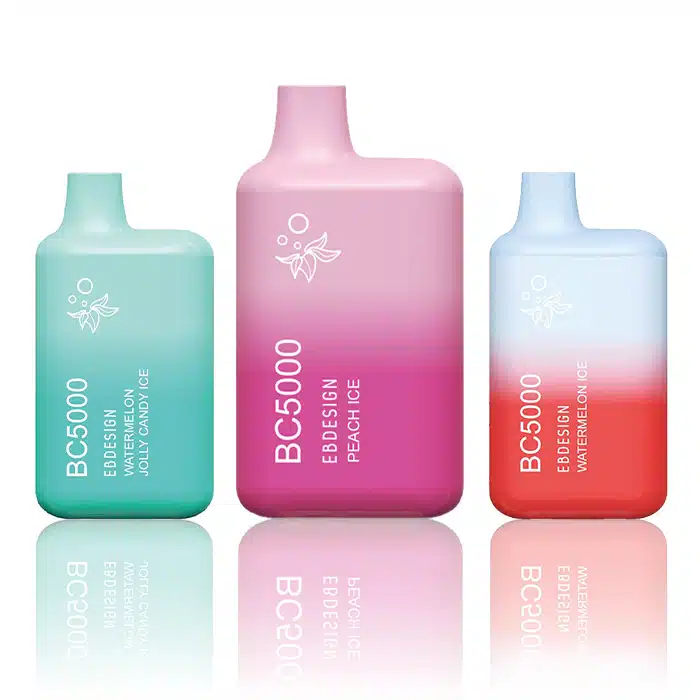 EB Create BC5000 Disposable
$14.95
The EB Create BC5000 Disposable offers a rechargeable built-in 650mAh battery, dual mesh coil heating elements and an amazing 13mL of delicious e-liquid capacity, all wrapped up in a sleek, colorful design.
Deal Of The Week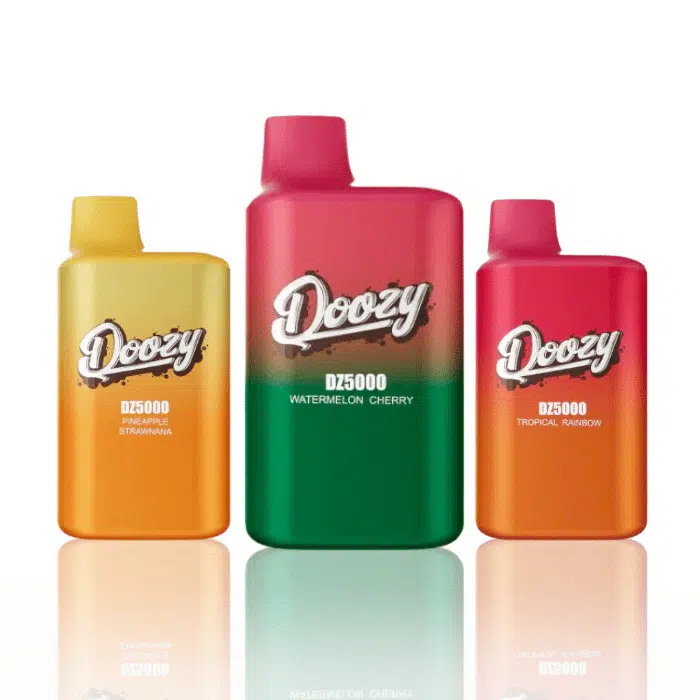 Doozy DZ5000 Disposable 5%
Description
Indulge in amazing flavor in a sleek, colorful package with the EB Create BC5000 Disposable Vape. A colorful addition to the EB Create Vape lineup, this easy to use and innovative device offers an incredible 13mL capacity to hold a wide variety of delicious e-liquid flavors, a rechargeable built-in battery and dual mesh coil heating elements for the perfect control and smoothest vapor.
EB Create BC5000 Disposable Specs
Dimensions: 79mm x 41mm x19mm
13mL Pre-Filled Synthetic E-Liquid
5% (50mg) Nicotine Strength
Rechargeable
650mAh Built-In Battery
Dual Mesh Coil Heating Element
Type-C USB Port
Approximately 5000 Puffs
Flavors
Beach Day: A tasty tropical treat that's perfect for reminiscing of a day spent at the beach.
Black Ice: Frosty menthol meets fruity berries with a unique flavor blend.
Black Winter: Icy blackberries with a smooth and sweet exhale.
Blueberry Energize: A bright blend of fresh blueberries with a kick of energy.
Blue Cotton Candy: A fruity twist on sugary cotton candy.
Blue Razz Ice: Tasty blue raspberries with a spicy menthol accent.
Blue Razz Lemon: Deliciously tangy blue raspberries accented by sweet lemonade.
Clear: A flavorless option with a smooth finish.
Cranberry Grape: Crisp, crunch cranberries and fruity grapes galore.
Cranberry Punch: A slam of fresh red fruits and mouthwatering cranberries.
Crazi Berry: A crazy concoction of your favorite berries, from blueberries to raspberries and more.
Cuba Cigar: A savory, rich blend of iconic Cuban tobacco flavors.
Energy: The perfect indulgence to get you up and moving.
Fuji Ice: Deliciously tart fuji apples with a punch of frosty menthol.
Grape Energy: Gorgeous green grapes with an added kick of energy.
Green Apple: Tangy Granny Smith apples that will leave your mouth watering.
Guava Ice: Mouthwatering fresh guava accented by fresh, frosty menthol.
Gumi: A tangy twist on classic gummies, with fresh peaches and sour citrus galore.
Honeydew Pineapple Orange: Tart pineapples and oranges topped with sweet, sugary honeydew.
Kiwi Passion Fruit Guava: A juicy blend of cool kiwis, fresh passion fruits and tangy guavas.
Lemon Mint: Sour lemony citrus with a fresh mint accent.
Malibu: A smooth twist on your favorite coconut adult beverage.
Malysian Mango: Juicy ripe mangoes with a smooth, fruity exhale.
Mandarin Lime: A lip-puckering twist of fresh fruity mandarin oranges and tangy limes.
Mango Peach: Tropical mangoes blended with sweet, sugary peach slices.
Mango Peach Apricot: A delicious indulgence with fresh mangoes, juicy peaches and tangy apricots.
Miami Mint: A tropical take on classic frosty mint.
Mint Tobacco: Savory tobacco accented by a punch of icy mint.
Mixed Fruity: A mouthwatering blend of fresh fruits and citrus.
Passion Fruit Orange Guava: A bouquet of tangy oranges, fresh passion fruit and tropical guava.
Peach Berry: A tasty twist of fresh fruity peaches and ripe berries.
Peach Ice: The juiciest, fresh peaches topped with spicy menthol.
Peach Mango Watermelon: A blend of tangy mangoes, juicy watermelons and perfectly ripe peaches.
Pineapple Coconut Ice: Sweet pineapple, fresh coconut and a punch of frosty menthol.
Pineapple Strawnana: A tropical twist of fresh fruity bananas, sweet strawberries and tangy pineapple.
Rainbow Candy: Tangy, juicy fruity gummy candies.
Rainbow Cloudz: A smooth blend of a rainbow blend of fresh fruits.
Red Mojito: A fresh, fruity take on your favorite minty adult beverage.
Sakura Grape: Crisp, juicy grapes with a touch of savory tastes.
Sour Apple: Tangy green apple flavors with a smooth exhale.
Sour Candy: A tongue-tingling and lip-puckering nod to your favorite sour citrus candies.
Strawberry Banana: The perfect blend of fresh strawberries and ripe bananas.
Strawberry Cream: A creamy twist on classic sweet strawberry flavors.
Strawberry Ice: Sweet strawberries topped with spicy fresh menthol.
Strawberry Kiwi: Sweet strawberries accented by fresh tropical kiwis.
Strawberry Mango: A classic blend of fruity strawberries and ripe red mangoes.
Strawberry Pina Colada: Your favorite adult beverage with a sweet strawberry twist.
Strawberry Watermelon: Juicy strawberries collide with fresh watermelon.
Strazz: Sweet strawberries and tangy raspberries with a smooth finish.
Summertime: A bright and airy tropical blend of fresh fruits and citrus.
Sunrise: A blissful blend of tropical flavors, including peaches, mango and citrus.
Sunset: A peaceful mix of your favorite tropical fruits.
Sweet Menthol: A sugary sweet twist on classic icy menthol flavor.
Triple Berry Ice: A triple-hitter of raspberries, blueberries and blackberries topped with menthol.
Tropical Rainbow Blast: An explosion of tasty tropical fruit flavors.
Watermelon Brzz Ice: A super frosty, tongue-tingling blend of watermelon and menthol.
Watermelon Bubble Gum: Your favorite bubblegum with a fruity twist.
Watermelon Cantaloupe Honeydew: A juicy concoction of fresh watermelon, sweet cantaloupe and juicy honeydew.
Watermelon Ice: A mouthwatering blend of fresh watermelon and sharp menthol.
Watermelon Jelly Candy Ice: Tangy watermelon candies accented by a twist of menthol.
Watermelon Nana Ice: Juicy watermelon, ripe peaches and a punch of spicy menthol.
Winter Berry: Crisp, fruity blackberries with a minty accent.
Additional information
| | |
| --- | --- |
| Brand | EB Create Vape |
| Nicotine Level | |
| Flavor | Beach Day, Berry Mix, Black Winter, Blue Cotton Candy, Blue Razz Ice, Blueberry Energize, Blueberry Pomegranate Ice, Brown Tobacco (Nut), Cherry Lemon Mint, Clear, Cranberry Grape, Cranberry Punch, Crazi Berry, Cuba Cigar, Fuji Ice, Lemon Mint, Malibu, Mango Peach, Miami Mint, Mint Tobacco, Mixed Fruity, Nut Tobacco, Orange Pear Nectar, Peach Berry, Peach Ice, Peach Mango Watermelon, Pineapple Coconut Ice, Pineapple Orange Mint, Pineapple Strawnana, Rainbow Candy, Sakura Grape, Snoow Grape, Snoow Ice, Strawberry Banana, Strawberry Ice, Strawberry Kiwi, Strawberry Mango, Strawberry Passionfruit Duo Ice, Strawberry Pear Orange Ice, Strawberry Pina Colada, Strawberry Raspberry Cherry Ice, Strawberry Watermelon, Strawlemon Ice, Strazz, Sunrise, Sunset, Triple Berry Ice, Tropical Rainbow Blast, Watermelon Bubble Gum, Watermelon Ice, Watermelon Jolly Candy Ice, Winter Berry |
FAQs
What is a EB Create BC5000?
An EB Create BC5000 is a portable vape with 13mL of e-liquid and 5000 puffs.
How long does an EB Create BC5000 vape last?
An EB Create BC5000 vape contains 5000 puffs, which typically lasts about 1-2 weeks depending on use.
How do you know when your EB Create BC5000 is finished?
Typically, when your EB Create BC5000 is out of juice, you'll experience an unpleasant aftertaste.
How does the EB Create BC5000 compare to cigarettes?
An EB Create BC5000 vape contains about the same amount of nicotine as 48 cigarettes.
What is the difference between an EB Create BC5000 and EB Create BC5000 Ultra?
The main difference between the EB Create BC5000 and BC500 Ultra is that the Ultra pulls more vapor per hit with a hard pull.