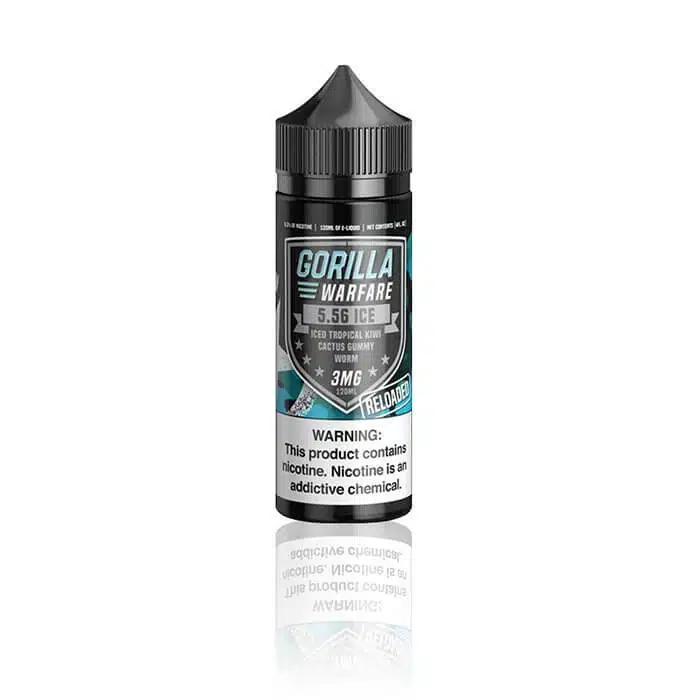 Gorilla Warfare 120mL – 5.56 Reloaded on ICE
$14.95
The perfect ejuice for your sweet tooth! Enjoy the enticing flavor of ripe, tropical kiwi crossed with gummi bears.
Available in 0, 3, & 6mg
Description
Ain't no shame in your sweet tooth game! Seriously. If you find yourself craving something sweet, reach for Gorilla Warfare eJuice 5.56 Reloaded on ICE for a flavorful ride that just doesn't quit. This liquid comes locked and loaded with the tropical taste and smooth feel of kiwi with just a little acidity to keep it light. Cactus flavor adds natural sweetness that perfectly compliments the complex notes of kiwi. Imagine drinking a honey-sweetened strawberry-kiwi cooler on a hot day. Speaking of hot days, this Gorilla Warfare eJuice is perfect at the beach, on the trail or anywhere else you find yourself sweating thanks to its icy, cooling properties that keep your palate fresh and the flavors popping. The icy notes wipe your palate clean so that each pull is like the first. We love an ejuice with finessed flavors and you will, too, when you try this incredibly complex but simply delicious juice.
Start your flavor journey with a swig of refreshing, tropical kiwi quickly followed by refreshing cactus. Curious about cactus? The flavor is a light wash of honey, as if you drizzled those tangy kiwi with just a little natural sweetener. This transition keeps your tastebuds on high alert and the flavor fresh each time. Add to that the cooling notes and you'll stay focused, aware and feeling alert. The finish is super smooth and clean with the surprise addition of gummi candy, preparing your palate for the next pull. Who doesn't love the mentholated feel of an icy vape? It's the perfect counterbalance to the hot, tropical kiwi and cactus. Each pull restarts with the delightful spark of electrifying tropical kiwi bathed in sweetness and then those cool gummi worms are back! You'll quickly add this to your list of best eJuice experiences and find it's a regular part of your rotation.
Additional information
| | |
| --- | --- |
| Brand | Gorilla Warfare |
| Nicotine Level | |
| Volume | 120ml |
| E-liquid Type | E-Juice |
| Flavor Category | Candy, Fruits, Menthol |
FAQs