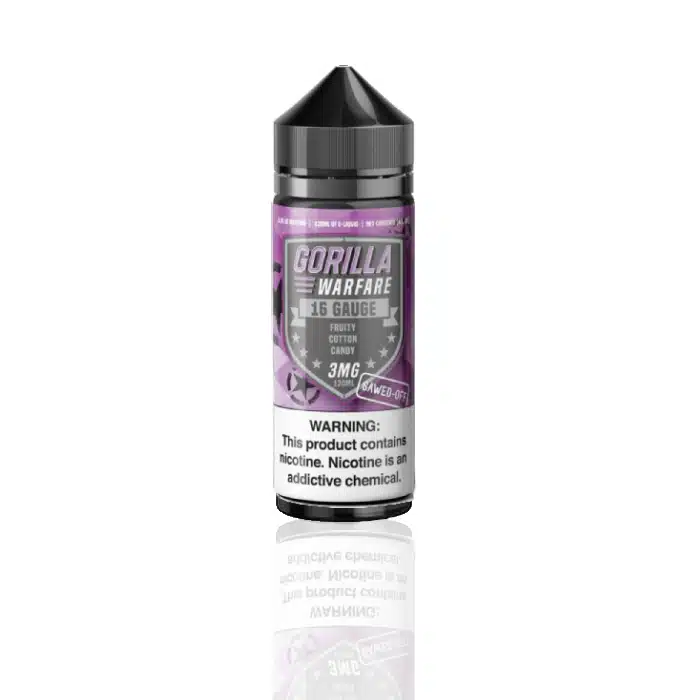 Gorilla Warfare – 16 Gauge – 120mL
$14.95
The Gorilla Warfare Salt 16 Gauge 120mL e-juice features a sugary fruity cotton candy flavor with 0%, 3% or 6% nicotine strength options for the perfect satisfyingly smooth experience.
Description
Indulge in your favorite flavorful childhood treat with an edge with the Gorilla Warfare 20 Gauge 120mL e-liquid. This delicious Gorilla Warfare ejuice features a sugary sweet flavor of fruity cotton candy and is available in multiple nicotine strength options, including 0%, 3% and 6%, for the ultimate satisfying experience.
Gorilla Warfare – 16 Gauge – 120ml Specs
120mL Unicorn Bottle
50% VG
50% PG
0% (omg), 3% (30mg) or 6% (60mg) Nicotine Strength
Flavor
A deliciously sugary flavor of fruity cotton candy.
Additional information
| | |
| --- | --- |
| Nicotine Level | |
| Brand | Gorilla Warfare |
| Volume | 120ml |
| E-liquid Type | E-Juice |
| Flavor Category | Candy, Dessert, Fruits |
FAQs