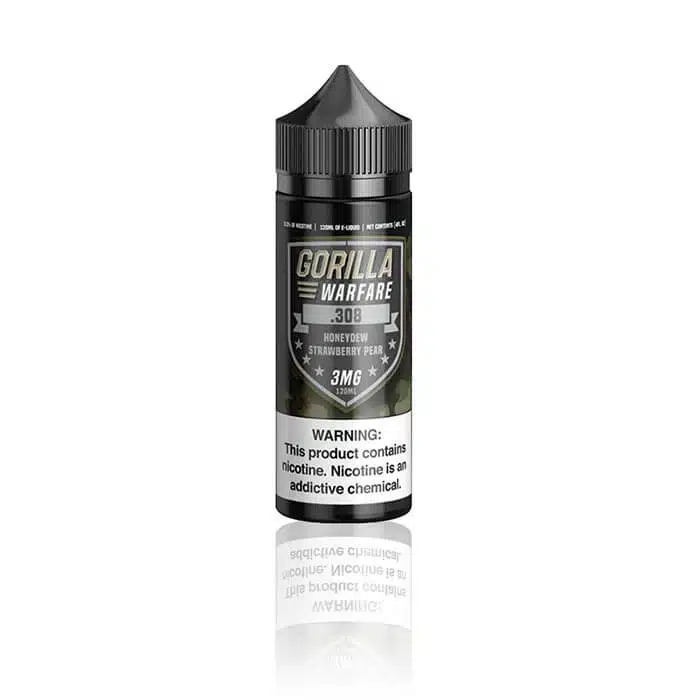 Gorilla Warfare Ejuice .308 – 120mL
$14.95
A blend of juicy goodness all-around made of Honeydew, Strawberry, and Pear blended to smooth perfection.
Available in 0mg, 3mg, and 6mg nicotine levels in 120mL bottles.
Description
Gorilla Warfare 120mL – .308 – Honeydew Strawberry Pear
Gorilla Warfare 120mL – .308 – Honeydew Strawberry Pear is one of the most perfect fruit pairings in e-liquid to this date! Made up of a soft sweetness from the juicy and succulent Honeydew, a gorgeous Strawberry taste with just a dash of ripe tartness, and the absolute bliss of a plump and thirst quenching Pear, all sliced up together in one bowl. These flavors pair together so well due to their unique different tastes and their all-around juiciness, creating a mouthwatering flavor. This e-liquid has a mix of three different fruit flavors, so it is ideal for people who don't want a bland flavor and like a little bit of excitement in their mix.
Inhaling brings up the base flavor and star of the show, the Honeydew, which gives a deliciously light and juicy start and then meets up with its two co-stars. After the Honeydew, you'll notice the Pear flavor come out next right alongside the Strawberry. These tastes all interact with each other, but interestingly enough; you can taste all of them separately as well, as they swirl around your taste buds. Exhaling brings everything down to the subtle sweetness of the Honeydew melon and finishes off the flavor beautifully, making you want to keep taking more and more pulls. Gorilla Warfare 120mL – .308 – Honeydew Strawberry Pear comes in 0mg, 3mg, and 6mg of nicotine and is packaged in a Unicorn style bottle to make refills for all of your devices easier.
Additional information
| | |
| --- | --- |
| Nicotine Level | |
| Brand | Gorilla Warfare |
| Volume | 120ml |
| E-liquid Type | E-Juice |
| Flavor Category | Fruits |
FAQs