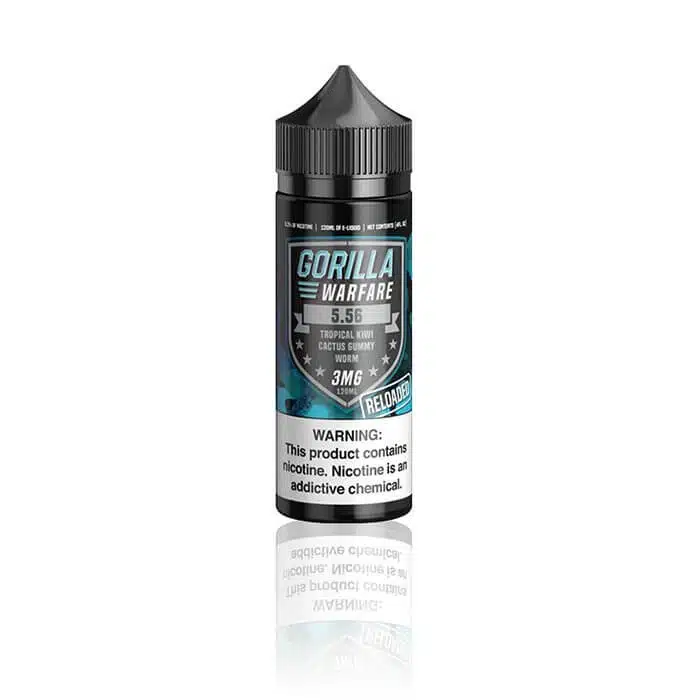 Gorilla Warfare Ejuice 5.56 Reloaded – 120mL
$14.95
An unusual combination of kiwi and tropical cactus, mixed with the sweetness of gummy worms.
Available in 0mg, 3mg, and 6mg nicotine levels in 120mL bottles.
Description
Gorilla Warfare Ejuice 5.56 Reloaded – 120mL
Gorilla Warfare Ejuice 5.56 Reloaded – 120mL is an unusual and interesting blend of flavors, designed to lift your taste buds up and take them somewhere they've never been before. This eliquid consists of sweet and exotic Kiwi, unique Tropical Cactus, and candy Gummy Worms; a combination you wouldn't even dream of, but you'll be glad that Gorilla Warfare did! This flavor will take you to another planet of sweet deliciousness, with clouds of gorgeous Cactus Honey in the air, surrounded by streams of sweetened Kiwi juice and Gummy Worm fish swimming all the way upstream. With this crazy mix all blended together, this flavor is sure to have you reaching for it day and night!
At first, you'll notice the sweet and vibrant Kiwi base setting the scene for everything like a solid bed of fruity flavor. Coming in to lie down on top of it is a golden honey derived from the huge and succulent spike of a Tropical Cactus, drizzled all over some sprinkles of delicious Gummy Worm candies to bring a candied essence to this tropical fruit fest. This e-juice is so unique and different from other typical fruity or tropical blends; this one will feed your cravings and then some! Gorilla Warfare Ejuice 5.56 Reloaded comes available in three different nicotine options and can be used with all mods and refillable devices.
Additional information
| | |
| --- | --- |
| Nicotine Level | |
| Brand | Gorilla Warfare |
| Volume | 120ml |
| E-liquid Type | E-Juice |
| Flavor Category | Candy, Fruits |
FAQs