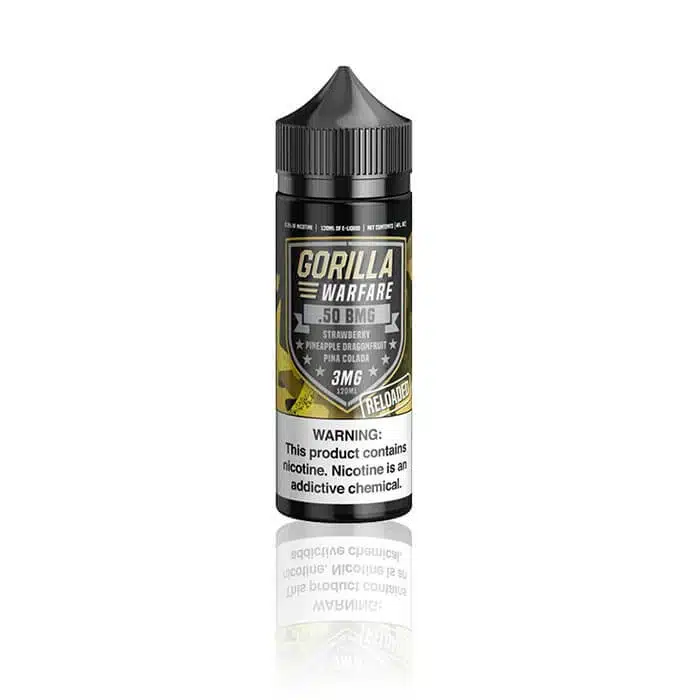 Gorilla Warfare Ejuice .50 BMG Reloaded – 120mL
$14.95
A delicious blend of Pineapple, Strawberry, and Dragon Fruit all mixed into a gorgeous Pina Colada drink!
Available in 0mg, 3mg, and 6mg nicotine levels in 120mL bottles.
Description
Gorilla Warfare Ejuice .50 BMG Reloaded – 120mL
Gorilla Warfare Ejuice .50 BMG Reloaded – 120mL hits you like the most beautiful punch that you could imagine, one that's loaded with power but covered in a light and fluffy glove. This ejuice flavor has a solid base of sweet and juicy Pineapple, giving you a blend of citrus, sugar, and tropical juices all in one. It then mixes with a decadent Dragon Fruit, rich Strawberry, and super sweet Pina Colada blend of undertones to bring out one of the most amazing fiestas of flavor you could imagine! You wouldn't really imagine these flavors coming together, but man when they do it's like riding your taste buds down a waterslide of the best drink you could find. Fruity chunks of vibrant Pineapple juice with floating bits of sweet Dragon Fruit, both colliding with succulent red Strawberries, all floating down a river of smooth and silky Pina Colada are an ideal combination for a tropical escape kind of vape!
At first, this flavor will taste like a single gorgeous fruit drink that'll have you in a daze trying to figure out what in the world is inside of it. Then, as the flavor mingles around your tongue you'll notice the flavors separate and create individual bursts of bright Coconut mixing with island Pineapple and the juicy unique flavor only Dragon Fruit can bring. This flavor is perfect for those who don't really prefer a single-base flavor and enjoy something that has a good amount of variety tastes that all blend together so smoothly and evenly. These tastes are just enough to keep things calm and collected, but also fun and exciting. The rest of the Gorilla Warfare line is just as delicious and unique as this stunning creation, that's kind of what they're known for. This gorgeous flavor comes loaded into a gorilla bottle for easy refills and less mess when pouring, plus it also comes available in a variety of nicotine levels to choose from! Gorilla Warfare Ejuice .50 BMG Reloaded can be used with just about any mod and refillable device.
Additional information
| | |
| --- | --- |
| Nicotine Level | |
| Brand | Gorilla Warfare |
| Volume | 120ml |
| E-liquid Type | E-Juice |
| Flavor Category | Fruits |
FAQs