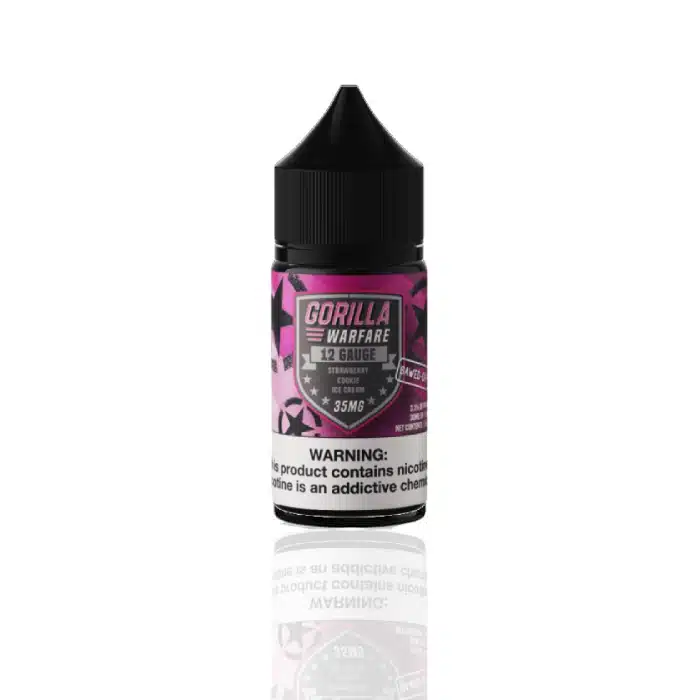 Gorilla Warfare Salt – 12 Gauge 30mL
$12.95
The Gorilla Warfare Salt 12 Gauge 30mL e-juice features a sugary flavor of sweet creamy cookie ice cream topped with juicy, ripe strawberries for an amazing dessert-like experience.
Description
If you're in love with delightfully sweet dessert-like flavor, get ready to fall head over heels for the Gorilla Warfare Salt 12 Gauge 30mL e-liquid. This mouthwatering Gorilla Warfare ejuice combines an intoxicating blend of sweet and creamy cookie ice cream accented by touches of sweet sugary strawberries.
Gorilla Warfare Salt – 12 Gauge – 30ml Specs
30mL Unicorn Bottle
50% VG
50% PG
1.8% (18mg), 3.5% (35mg) or 5% (50mg) Nicotine Strength
Flavor
A creamy blend of sweet cookie ice cream and sugary strawberries.
Additional information
| | |
| --- | --- |
| Brand | Gorilla Warfare |
| Nicotine Level | |
| E-liquid Type | Nicotine Salts |
| Volume | 30ml |
| Flavor Category | Candy, Dessert, Fruits |
FAQs