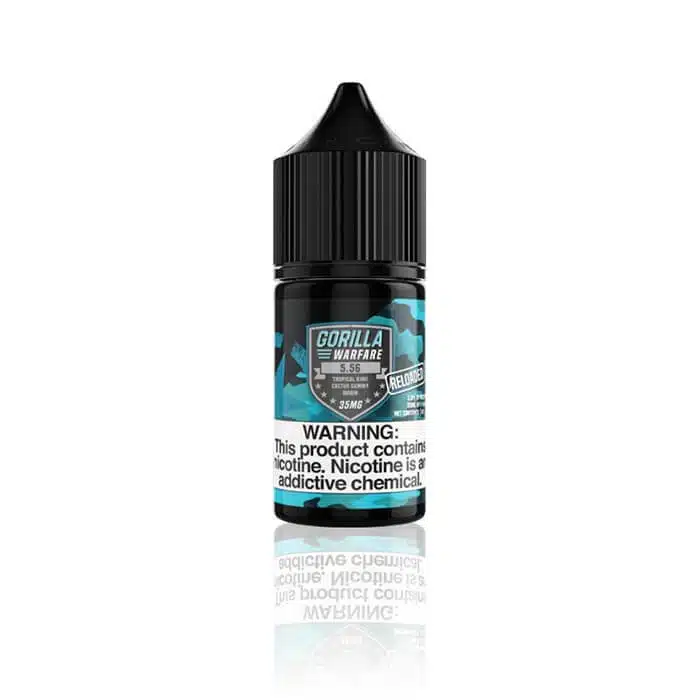 Gorilla Warfare Salt 30mL – 5.56 Reloaded Ice
$12.95
Gorilla Warfare 5.56 Reloaded Ice nic salt has everything you're craving: tropical fruit, natural sweetness, gummy candy goodness and a cool shot on the exhale.
Comes in two nicotine strengths. Not for use with sub ohm systems.
Description
If you love the trippy mix of kiwi, cactus and sweet gummy bears in Gorilla Warfare nic salt 5.56 Reloaded you're not going to believe the ice version. Just when we didn't think it could get better, it did! Add to incredibly refreshing and never too-sweet flavor of tropical kiwi, cactus and gummy worm the cooling effect of this iced nic salt. It's pretty much perfect!
The Perfect Sweet Treat, Now On ICE!
There's just something about ice flavors that gets us going. No matter how chill we are, that extra shot of cold is the perfect flavor enhancer. Our chilly taste buds can't get enough!
Like a cold, sweet juice of naturally sweetened kiwi garnished with a little gummy fun you'll love 5.56 Reloaded Ice nic salt, one of many nic salts known for its refreshing qualities and sweet balance of flavors. The honey-like refreshment of the cactus is perfect with kiwi and keeps from taking away from the delicious candy flavor of gummy worms. A chill on the exhale keeps you centered and ready to face whatever is headed your way.
Flavor and Texture Profile
Sweet without being too sweet, this blend of natural and candy flavors is soft with the most delightful ice edge at the end. It really can't be beat. Your  nicotine salts collection should be as well-rounded as you are and Gorilla Warfare 5.56 Ice Reloaded Nic Salt is just what it's missing. Fruit? Check! Honey? Check! Ice? Check! The vape flavor trifecta has arrived.
Gorilla Warfare Salt 5.56 Reloaded Specs
30 mL bottle
choose 35 or 50 mg strength
VG/PG Ratio of 70/30
Unicorn Bottle
Additional information
| | |
| --- | --- |
| Brand | Gorilla Warfare |
| Nicotine Level | |
| E-liquid Type | Nicotine Salts |
| Volume | 30ml |
| Flavor Category | Candy, Fruits, Menthol |
FAQs