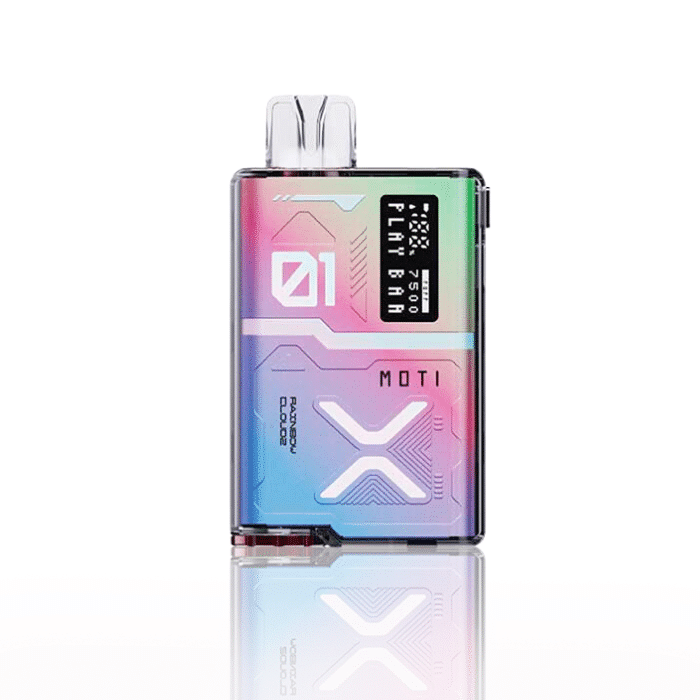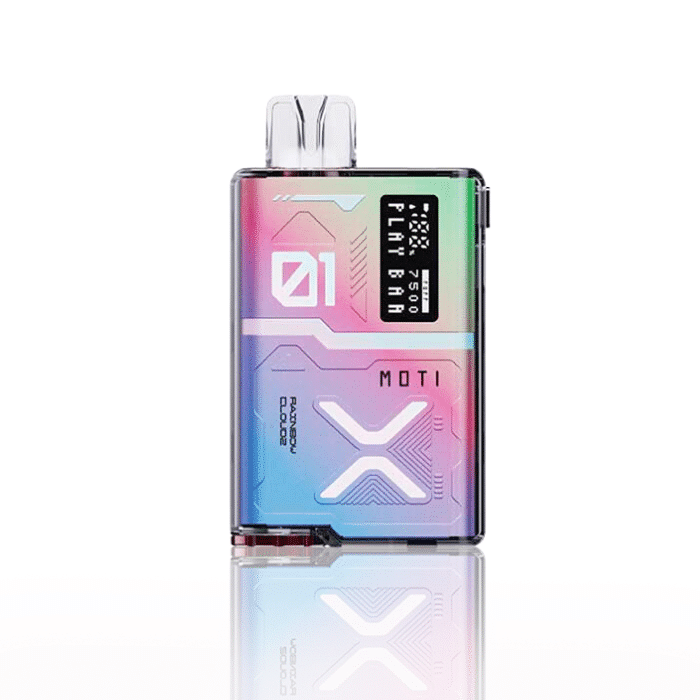 MoTi Play Bar Disposable Vape
$15.95
The MoTi Play Bar Disposable Vape features a 14mL pre-filled e-liquid, 5% (50mg) nic-salt, and a 700mAh rechargeable battery for up to 7500 puffs. Its user-friendly design includes a digital display screen for usage status and an adjustable airflow knob. With a wide range of enticing flavors, it provides an enjoyable and personalized vaping experience. Get ready to PLAY with the MoTi Play Bar!
Deal Of The Week
Geek Vape Raz CA6000 Disposable
Description
The MOTI PLAY Bar, part of the cool MOTI PLAY series, is a handy and trendy vape device from MOTI. It's pocket-sized and perfect for vaping anytime, anywhere. This MOTI PLAY Bar has a special screen showing how much you've used it and how many puffs are left. Plus, it lets you change the airflow to make each puff just right for you. With a big 18ml e-liquid tank, a rechargeable 700mAh battery, and strong 50mg/mL nicotine, the MOTI PLAY Bar can keep you vaping for up to 7500 puffs! It's simple to use and perfect for anyone who loves to vape. The MOTI PLAY Bar, with its great features and stylish design, gives you a great vaping experience, showing why MOTI vapes are a top choice for vapers everywhere.
MoTi Play Bar Disposable Vape Specs
E-Liquid Capacity: 14mL Pre-filled
Nicotine Strength: 5% (50mg)
Battery: 700mAh Type-C Rechargeable
Puffs: Approximately 7500
Coil: 1.0Ω Mesh
Adjustable 360° Airflow Knob
Digital Battery & E-Liquid Display Screen
Flavors
Blue Razz Ice: A frosty mix of tangy blue raspberries
Blueberry Peach Gummy: A delightful combo of sweet blueberries and peaches with a gummy twist.
Blueberry Raspberry: A sweet combination of sweet blueberries and tangy raspberries.
Cherry Lemonade: A refreshing mix of tangy lemonade and sweet cherries.
Cool Mint: A refreshing blast of cool mint.
California Cherry: Experience the juicy and sweet taste of California cherries.
Cantaloupe Apple: A unique blend of sweet cantaloupe and crisp apples.
Grape: A juicy flavor of ripe grapes.
Kiwi Passionfruit Guava: A tropical combo of kiwi, passionfruit and sweet guava
Lush Ice: A cool and refreshing icy flavor
Mango Peach Watermelon: A tropical fusion of sweet mango, tangy peach and juicy watermelon.
Miami Mint: Enjoy a minty fresh breeze reminiscent of Miami beaches.
Pink Bomb: A mystery flavor that's a delightful surprise.
Pink Lemonade: A refreshing flavor of tangy lemonade.
Pomelo Pearl Grape: Savor the tart taste of pomelo combined with sweet grapes.
Rainbow Cloudz: Experience a magical mix of multiple fruity flavors.
Sour Apple Peach: A refreshing flavor of sour apple and sweet peach.
Strawberry Banana: A classic combination of sweet strawberries and creamy bananas.
Tropical Rainbow Blast: An explosion of various tropical fruits.
Watermelon Bubblegum: A sweet and juicy blend of watermelon and classic bubblegum.
Additional information
| | |
| --- | --- |
| Brand | Moti Vape |
| Flavor | Blue Razz Ice, Blueberry Peach Gummy, Blueberry Raspberry, California Cherry, Cantaloupe Apple, Cherry Lemonade, Cool Mint, Grape, Kiwi Passionfruit Guava, Lush Ice, Mango Peach Watermelon, Miami Mint, Pink Bomb, Pink Lemonade, Pomelo Pearl Grape, Rainbow Cloudz, Sour Apple Peach, Strawberry Banana, Tropical Rainbow Blast, Watermelon Bubblegum |
| Nicotine Level | |
FAQs