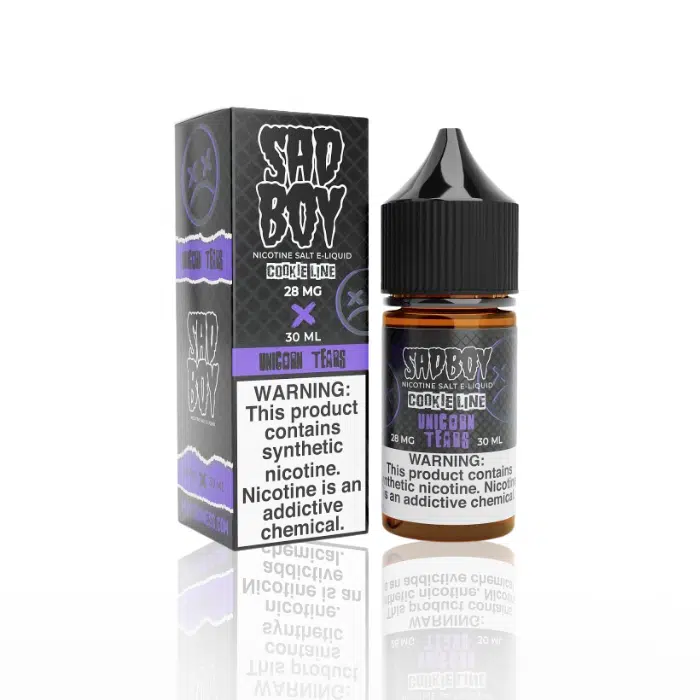 Sadboy Salt – Unicorn Tears 30mL
$12.95
Sadboy Salt – Unicorn Tears 30mL offers a distinctive blend of butter cookie and a touch of citrus. Dive into this sadboy vape e-juice in 28mg and 48mg nicotine strengths, designed for POD SYSTEMS and low power devices.
Description
Enjoy the special taste of Sadboy Salt – Unicorn Tears 30mL. This e-juice mixes butter cookie flavor with a hint of citrus. It's a unique and tasty treat, inspired by the magic of unicorns. Every puff promises a delightful blend that's both sweet and slightly tangy.
Sadboy Salt – Unicorn Tears 30mL Specs
Bottle Capacity: 30mL
PG: 50%
VG: 50%
Formulation: Synthetic Nicotine Formulation
Available Nicotine: 28mg, 48mg
Specifically formulated for: POD SYSTEMS and other LOW POWER devices
Usage Warning: DO NOT USE with RDA's or sub-ohm tanks and devices.
Additional information
| | |
| --- | --- |
| Brand | Sadboy |
| E-liquid Type | Nicotine Salts, Synthetic Nicotine |
| Flavor Category | Dessert |
| Nicotine Level | |
| Volume | 30ml |
FAQs