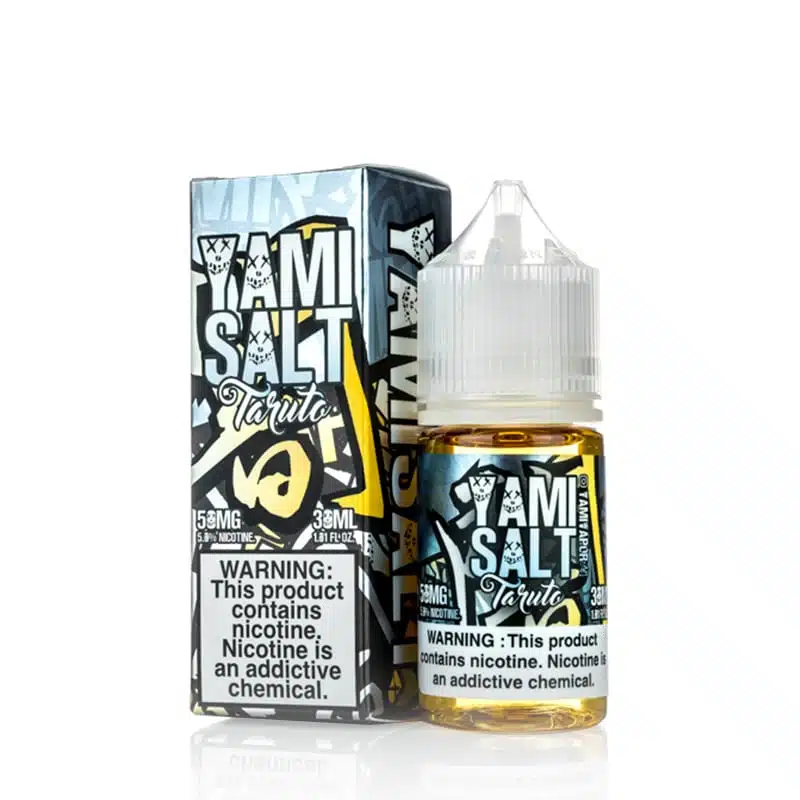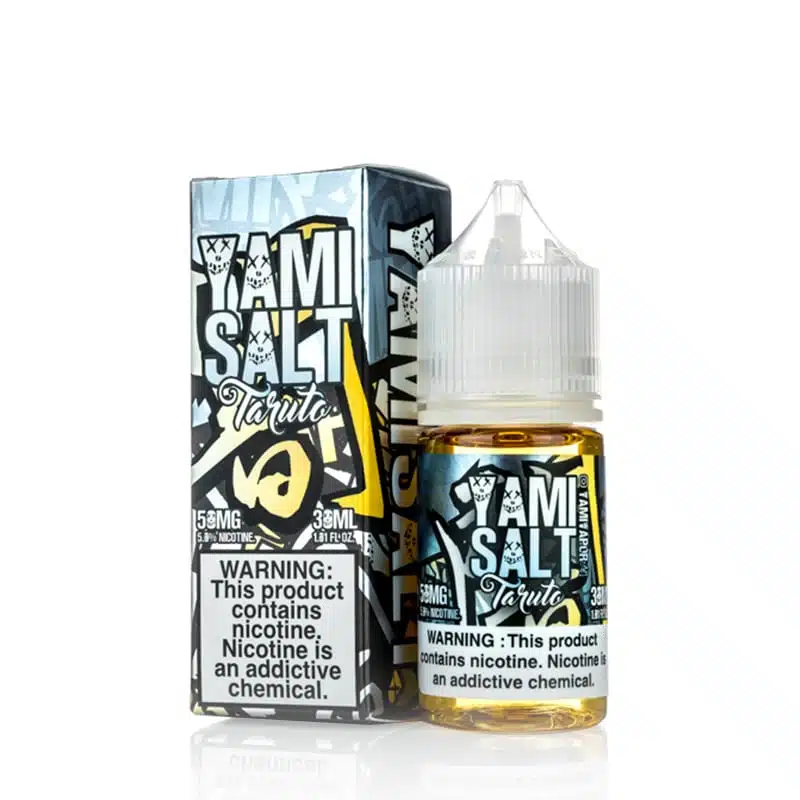 Yami Vapor Salt – Taruto 30mL
$12.95
Yami Vapor Taruto is the salt nic desert collection must have! Warm vanilla custard snuggled softly inside a freshly baked buttery pie crust. Sweet, savory, and totally satisfying! Available in 35 mg and 50 mg nicotine levels. Comes in a 30 mL bottle.
Description
Yami Salt Taruto salt nic juice is an indulgent homage to the delectable Asian egg dessert. The primary flavors vanilla custard, dessert, and pastry are carefully combined to create a culinary treat only Yami can serve!
This decadently sweet and rich salt nic juice consists of a buttery and flaky pastry that's stuffed to the max with creamy and decadent vanilla custard. The only difference is that this custard is heavy on the egg yolks. This means super rich and extra creamy. The beloved dessert flavor profile of Taruto will certainly hit the spot and satisfy every achy sweet tooth whenever you take a puff.
On the inhale, the buttery pastry flavor of Yami Salt Taruto slaps your tongue almost immediately, satisfying you with every sweet and savory note. Once in your mouth, the richness and sweetness of the custard become apparent. You'll love the fresh egg yolks and the warm, smooth vanilla mixed perfectly together. On the exhale, the intense sweetness of this unique flavor only intensifies as the yumminess of the smooth custard soaks your palate.
Yami Salt Taruto salt nic juice comes in a 30 mL unicorn bottle and has a balanced 50/50 VG/PG blend. This means it is perfect for getting that terrific hit to the throat you desire from a salt nic juice. This product is a salt based nicotine product, which means it is heavy on the nicotine!
If you're a custard lover, this amazing nic salt needs to be in your dessert e-juice collection. Be sure to check out all of the other wonderful salt nic juices we have available and pick up a few! You can also browse our regular ejuices and start your own collection of mind-blowing flavors.
Recommended only for use with pod system devices, not RDA's or sub ohm tank devices. Available in either 35 mg or 50 mg nicotine levels.
Additional information
| | |
| --- | --- |
| Nicotine Level | |
| Brand | Yami Vapor |
| Volume | 30ml |
| Flavor Category | Bakery, Dessert |
FAQs