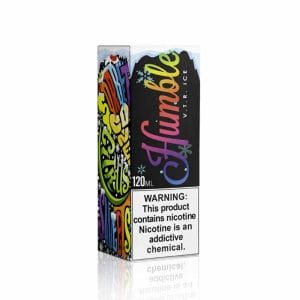 Humble Juice Co. – ICE Vape the Rainbow 120mL
$14.95
Vape the Rainbow (VTR) knows how to stand out in a crowd! A colorful rainbow sorbet mixed with fruit flavored candies on ICE and might be the sweetest juice around.
Ingredients: Natural & Art Flavoring, USP Propylene Glycol, USP Vegetable Glycerine, and USP NicSelect Nicotine
Pre Steeped: Two weeks or longer
Ratio: 80vg/20pg
Description
Humble Juice Co. – ICE Vape the Rainbow 120mL
Humble Juice Co. – ICE Vape the Rainbow 120mL is the ICE version of the classic Vape The Rainbow flavor by Humble Juice Co., filled with deliciously cool sweetness and a variety of flavors creating one of the most interesting and satisfying Ice e-liquids on the market! Giving a dose of menthol to this mix takes the already sweet and candied flavor of Vape The Rainbow and makes it an even sweeter and dulled down rainbow of berries, citruses and sugary goodness, just like a rainbow snow cone.
Inhaling brings out a gorgeous display of sweet flavors like candied berries and sugary sorbet, which soon gets joined by citrus and tart fruit blends to make it so that the sweet side is not too overwhelming while it still holds the center of attention. Exhaling brings out the tanginess of the undertones even more and pairs it well with the sorbet concept to make everything taste like one satisfying snow cone. Humble Juice Co. – ICE Vape the Rainbow 120mL comes available in your choice of three different nicotine levels and can be used in all of your refillable mods and devices.
FAQs