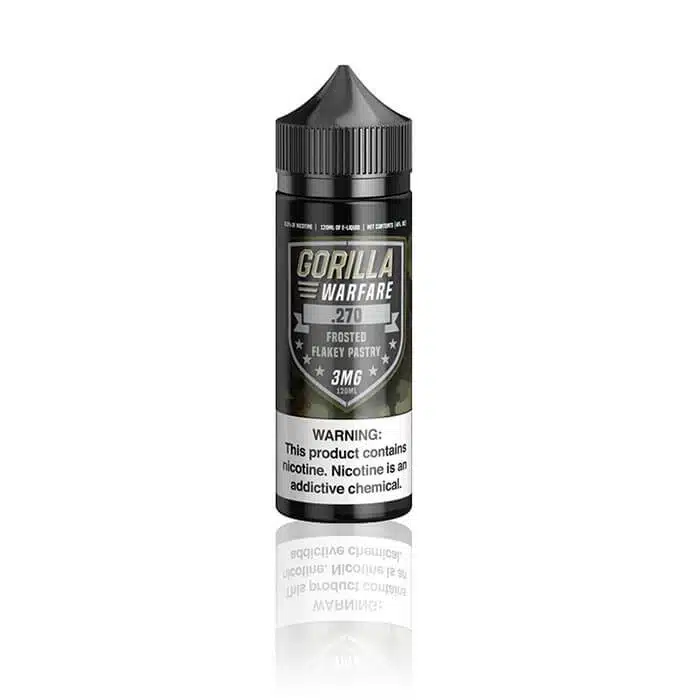 Gorilla Warfare Ejuice .270 – 120mL
$14.95
A crisp Flakey Pastry glazed with delicious Vanilla icing and topped with a layer of Powdered Sugar.
Available in 0mg, 3mg, and 6mg nicotine levels in 120mL bottles.
Description
Gorilla Warfare 120mL – .270 – Frosted Flakey Pastry
Gorilla Warfare 120mL – .270 – Frosted Flakey Pastry is supposed to be Gorilla Warfare's version of a calm and bland flavor, but they just couldn't help themselves from making it into a sweet sanctuary of pastries! Frosted Flakey Pastry tastes like a gorgeously light and airy puff pastry that has been glazed and frosted with a decadent Vanilla icing, then topped off with just a sprinkle of powdered sugar. This flavor is a warm and subtle one, but definitely on the sweeter side and is great for anyone who likes a soft and sweet vape.
Inhaling this liquid brings out the Puff Pastry taste first, to start off with a solid base for all of the flavors to pile onto. It very quickly turns into a frosted treat, with the sweet Vanilla icing coming out to play. As the mixture swirls around and gets inhaled further, the powdered sugar climbs to the top like icing in a cake, and brings with it the perfect amount of powdery sweetness to make everything taste just like a beautiful Pastry dessert. Exhaling brings back that Puff Pastry base to bring everything back down to a calm and smooth taste, but carries just a little of the powdered sugar with it to keep it sweet and sugary. Gorilla Warfare's e-liquids can be used to refill all mods and refillable devices or cartridges. Gorilla Warfare 120mL – .270 – Frosted Flakey Pastry comes in three different nicotine levels.
Additional information
| | |
| --- | --- |
| Nicotine Level | |
| Brand | Gorilla Warfare |
| Volume | 120ml |
| E-liquid Type | E-Juice |
| Flavor Category | Bakery, Dessert |
FAQs