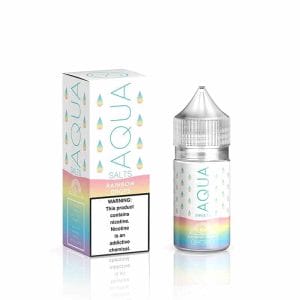 Aqua Salt E-Liquid – Rainbow Drops 30ml
$12.95
Aqua Rainbow Drops is a sugary sweet and completely fruity candy salt nic juice e-liquid which tastes exactly like the rainbow. Aqua Salts salt nic juice is inspired by those little drops of bright candy everyone loves! Strawberry, orange, lemon, grape and green apple will surely make your mouth water! Available in 35 mg or 50 mg nicotine. 30 mL gorilla bottle.
Description
Aqua Rainbow Drops salt nic juice is a sugary sweet mixed with tiny sour surprises in a jaw-dropping rainbow candy blend. Aqua Rainbow Drops is a high nicotine salt nic juice for those who desire high octane. Aqua Rainbow Drops rainbow candy salt nic juice is packed with ripe strawberry, sour green apple, tart lemon, juicy orange, and sweet grape flavors. Experience the rainbow first hand with this high nicotine, high flavored e-liquid by the industry favorite, Marina Vapes. This wonderful candy treat will remind you of the favorite Nerds candy we all enjoyed as kids growing up. Just keep an eye out for those pesky little leprechauns who will want to steal your fruity treasure!
Rainbow Drops salt nic juice from AQUA Marina comes in a 30ml chubby gorilla bottle that is easy to use and it is always mess-free when refilling your system. This intensely flavored salt nic juice has a smooth and intense 50/50 VG/PG base for full mouth to lung vaping every hit.
Please note that all AQUA Salts nicotine salt infused e-Liquids are specially designed to be used with pod systems and other similar low power devices only. All Aqua Salts e-liquids are salt nicotine based and have high levels of nicotine! Recommended for use with Open Pod Systems only and are not recommended for use with RDA's or sub-ohm tanks and devices. If you do not have one of these open pod systems yet, then you should check out the Aspire Nautilus Pod Kit that works perfectly with salt nic juice. If you like candy or fruity flavors, then you may also like Flow, another amazing flavor of salt nic juice by Aqua Salt.
AQUA Rainbow Drops Salt Nic Juice:
Available Nicotine: 35 mg and 50 mg
30 mL bottle
Child resistant cap
50% PG/50% VG
Made in the USA
Manufactured by Marina Vape
FAQs