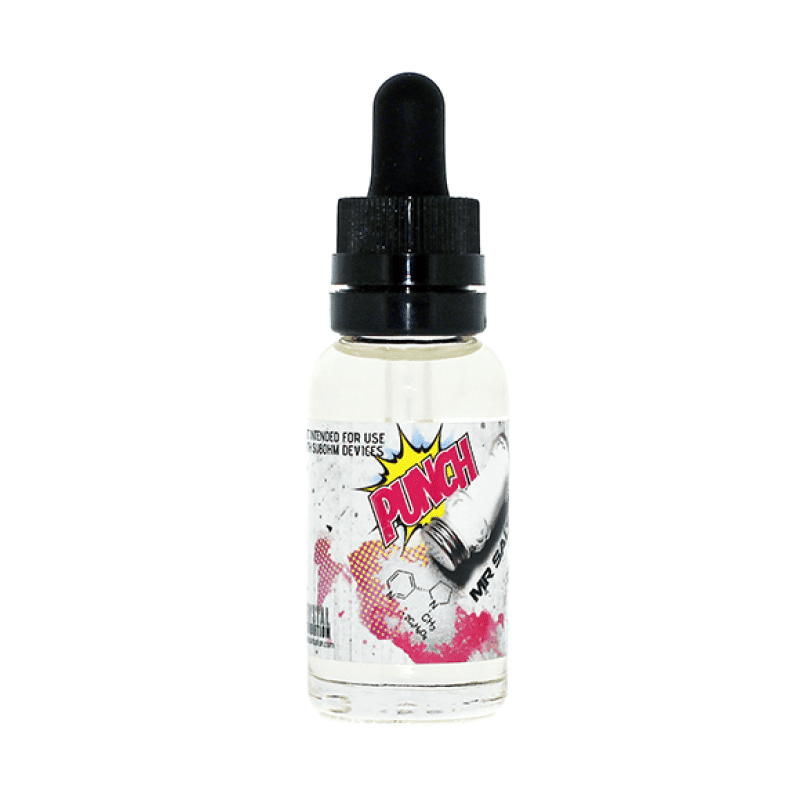 Mr. Salt-E Punch 30mL
$12.95
A delicious party mix from Mr. Salt E that you can enjoy in between sips from a tall glass of fruit punch to keep the flavor going along with lively conversation.
Description
No summer party is complete without a large bowl of fruit punch and each time you take a whiff from the vaping mod, you'll instantly walk into a room filled with your friends, lots of laughter, and spirited discussions of the latest movies and music. Want to take a break from long work days slaving at your desk? Step outside and flip open the cap of your vaping device and feel refreshed right away. Pamper your taste buds with all your favorite fruits like mango, strawberry, pear, kiwi, cherry, and tons more.
That's the flavor you get from each puff of the Mr. Salt E Punch. And, if you're concerned that the fruity flavor may not be able to match your nicotine cravings, rest assured. The Mr. Salt E range of e-juices contains a selection of 25mg and 45mg nicotine that are adequate for the heavy smokers who go through more than 20 cigarettes each day. It will also interest you to know that Mr. Salt E is, in fact, a range of nic salts that are stronger and match your cravings with just a few puffs. Not only do you cut back on the monetary cost of your habit but you'll also save on the damage to your health.
Enjoy the puffs of smoke that come not from the burning of tobacco and other harmful substances but from food-grade compounds like Vegetable Glycerin and Propylene Glycol. Use the convenient dropper to load your vaping pod, snap it on, and activate by just taking a draw. Quitting conventional smoking and switching to a safer activity has never been so easy!
FAQs