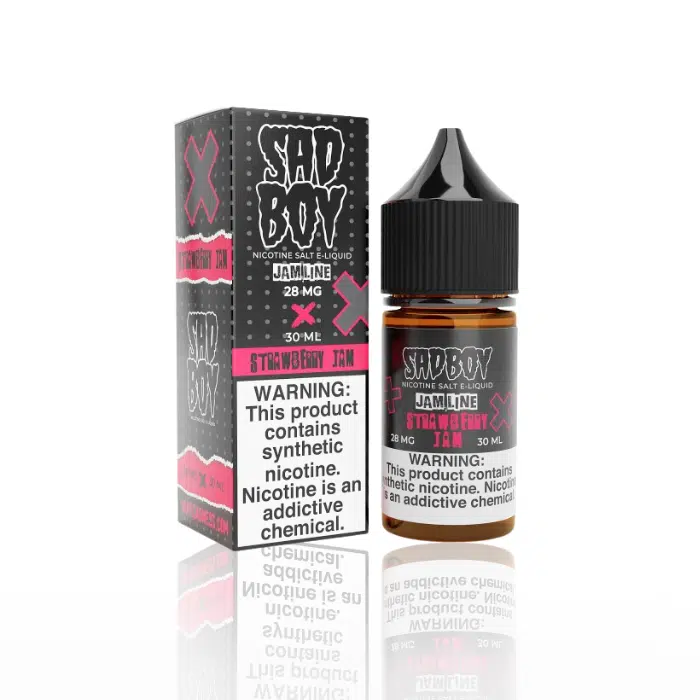 Sadboy Salt – Strawberry Jam 30mL
$12.95
Sadboy Salt – Strawberry Jam 30mL offers the comforting taste of freshly baked cookies paired with sweet strawberry jam. Experience this sadboy vape e-juice in 28mg and 48mg nicotine strengths, ideal for POD SYSTEMS and low power devices.
Description
Dive into the delightful taste of Sadboy Salt – Strawberry Jam 30mL. Formerly known as 'Strawberry Jam Cookie', this e-juice captures the essence of a buttery sugar cookie, fresh from the oven, generously topped with a homemade strawberry jam made from sweet summer strawberries. It's a perfect blend sweetness in every puff.
Sadboy Salt – Strawberry Jam 30mL Specs
Bottle Capacity: 30mL
PG: 50%
VG: 50%
Formulation: Synthetic Nicotine Formulation
Available Nicotine: 28mg, 48mg
Specifically formulated for: POD SYSTEMS and other LOW POWER devices
Usage Warning: DO NOT USE with RDA's or sub-ohm tanks and devices.
Additional information
| | |
| --- | --- |
| Brand | Sadboy |
| E-liquid Type | Nicotine Salts, Synthetic Nicotine |
| Flavor Category | Bakery, Dessert |
| Nicotine Level | |
| Volume | 30ml |
FAQs