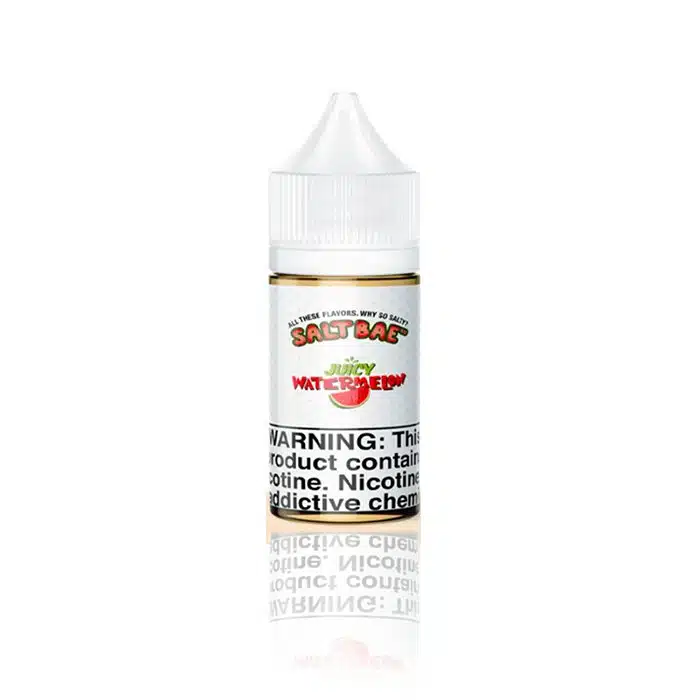 SaltBae50 – Juicy Watermelon 30mL
$12.95
Get ready to get your sense knocked off with this amazing summer delight. The Salt Bae 50- Juicy Watermelon e-juice has a rich flavor of watermelon which offers you comfort amid the hot month of the year.
Description
We all drool over a rich wedge of juicy watermelon. After all, it is a summery delight that offers you some solace from the heat waves and the scorching sun. But, have u ever wished for a vape juice that offers you the same comfort and flavorsome offerings. If yes, your wishes are granted. The Salt Bae 50– Juicy Watermelon is an e-juice that has beaten all the fruity vape flavors available in the market. Rich with the pureness of a ripe watermelon, which captures your tongue only to seduce senses, this flavor is a refuge for you on a hot sunny afternoon.
Salt Bae 50 is known for its delightful offerings and Juicy Watermelon is definitely one of them. Not only does it offer you a rush of sweetness around your tongue, seeping into your senses, but it is also a clean and healthy vape juice to enjoy any time of the day. The aftertaste of this e-juice is even more satisfying as you enjoy a sweet smell in your breath that lasts forever.
To make it easy to use, the e-juice comes in a plastic packaging with a dropper function. It is also safe to use, even when kids are around, thanks to its child safe cap. One bottle contains 30ml of expertly blended e-juice, which can be used for one of the best recreational activity- Vaping. If you like it with nicotine, you can choose the right level of nicotine in your e-juice. At Blackout Vapors, we offer you two choices for nicotine-25 mg & 50 mg.
You can use the Salt Bae 50- Juicy Watermelon e-juice with most of the lung pod system, vape device and enjoy the best time vaping this sweet e-juice.
Additional information
| | |
| --- | --- |
| Nicotine Level | |
| Brand | Salt Bae 50 |
| Volume | 30ml |
| Flavor Category | Fruits |
FAQs