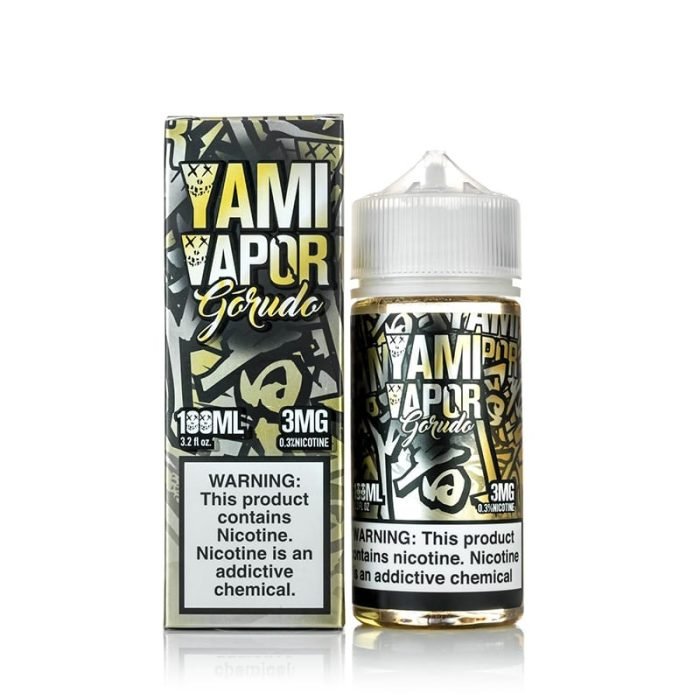 Gorudo 100mL by Yami Vapor
$14.95
Gorudo by Yami Vapor features the flavors of a roasted Japanese sweet potato, patiently cooked over a flame until caramelized to perfection.
Description
Gorudo is yet another flavor from Yami Vapor that confirms the brand's fondness for the bizarre and unusual. Take a whiff and you're treated to a flavor that you'll never find in any other collection – sweet potatoes. But, with an exciting twist. Gorudo celebrates Japanese cuisine and inspires you to check out the entire selection of dishes other than (well!) sushi. And, that's not all. You'll start to wonder about the special designing skills of the chemical analysts at Yami that have been successful at creating this fascinating e-liquid.
Get ready to taste sweet potatoes roasted slowly on an open flame Japanese style. The gentle flames lend that unique caramelization to the yams to deliver a fantastic dish called Satsuma. This delightful dessert has been considered a treat in Japanese kitchens for over 400 years and gives you a taste of the exciting history of the country. If you've been looking for something new other than typical fruit and dessert flavors, do try the Gorudo. This premium flavor is dense and full-bodied treating you to a lovely balance of sweet and savory.
Just so you know, other cultures across the world have their own versions of sweet potatoes. Koreans call them Goguma Mattang while the Mexicans call them Camotes Enmielados. The French are partial to their Tarte Tatin. In America, they're an integral part of every traditional Thanksgiving meal. But, Yami lends that something extra to the tried-and-tested, humble yam.
On inhaling, you'll sense the opening notes of natural sweetness that you get when you bite into a sweet potato. The clouds roll over your tongue without seeming too bland but startling your taste buds that are just not expecting yams from a vaping draw. When you exhale, the closing notes carry the sweetness just a little further adding just a hint of savory. Don't be surprised if a smile comes to your lips. Gorudo can do that to most vapers.
Your order of Gorudo will arrive in a 100mL Chubby Gorilla Bottle with the option of 0mg, 3mg, and 6mg nicotine levels. Just like the fast-running Yami Vapor Taruto, you can use this flavor as the perfect ADV. And, thanks to the high-grade ingredients that go into all this company's e-juices, you won't have to worry about damage to your mod. Ready to check it out? Place your order by clicking on the "Add to Cart" button and we'll send it your way soon.
MADE IN THE USA
Additional information
| | |
| --- | --- |
| Nicotine Level | |
| Brand | Yami Vapor |
| Volume | 100ml |
| E-liquid Type | E-Juice |
| Flavor Category | Dessert |
FAQs