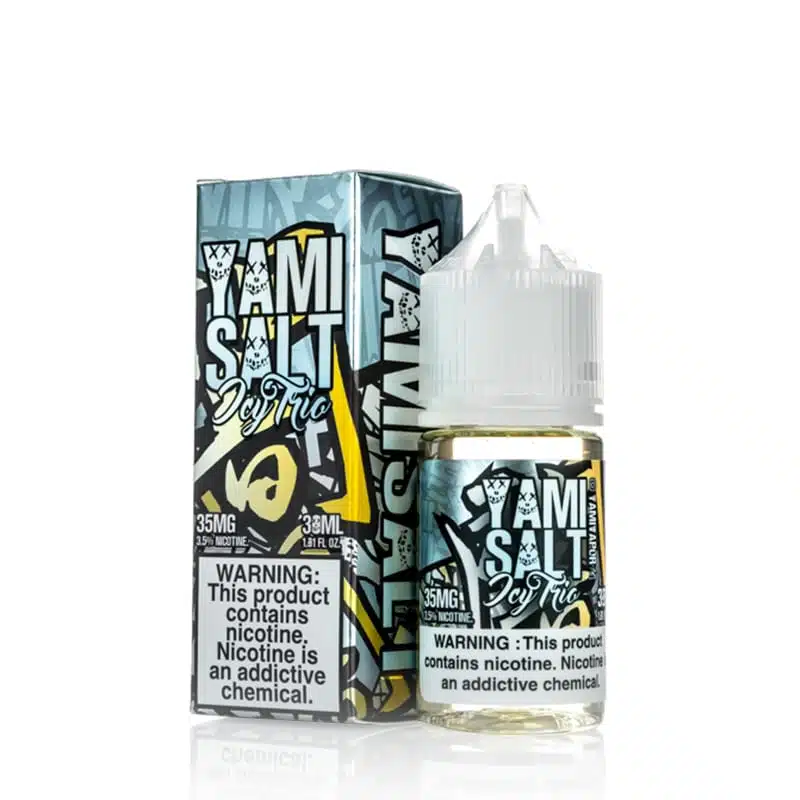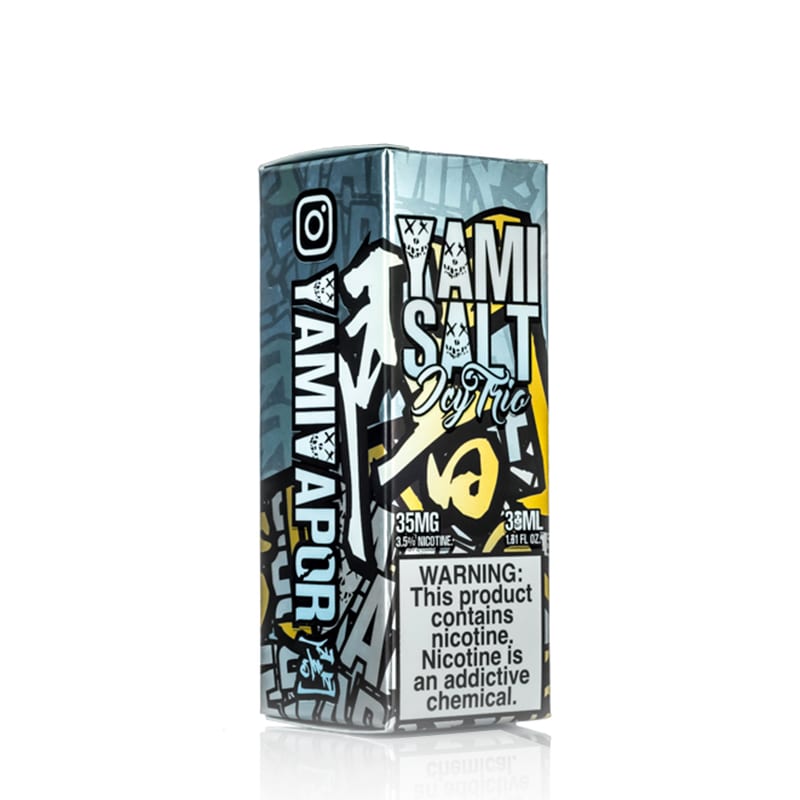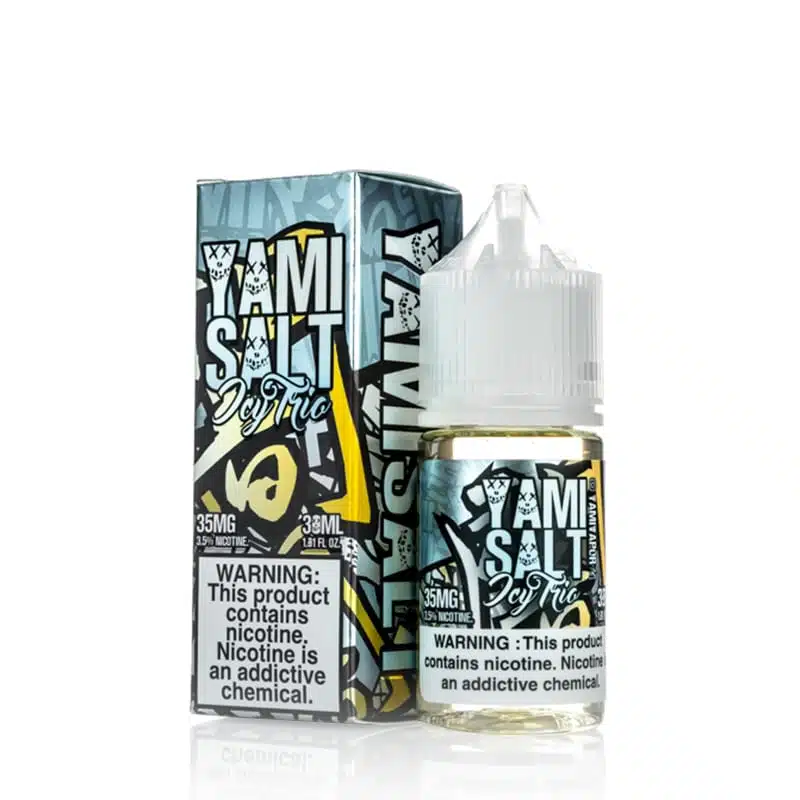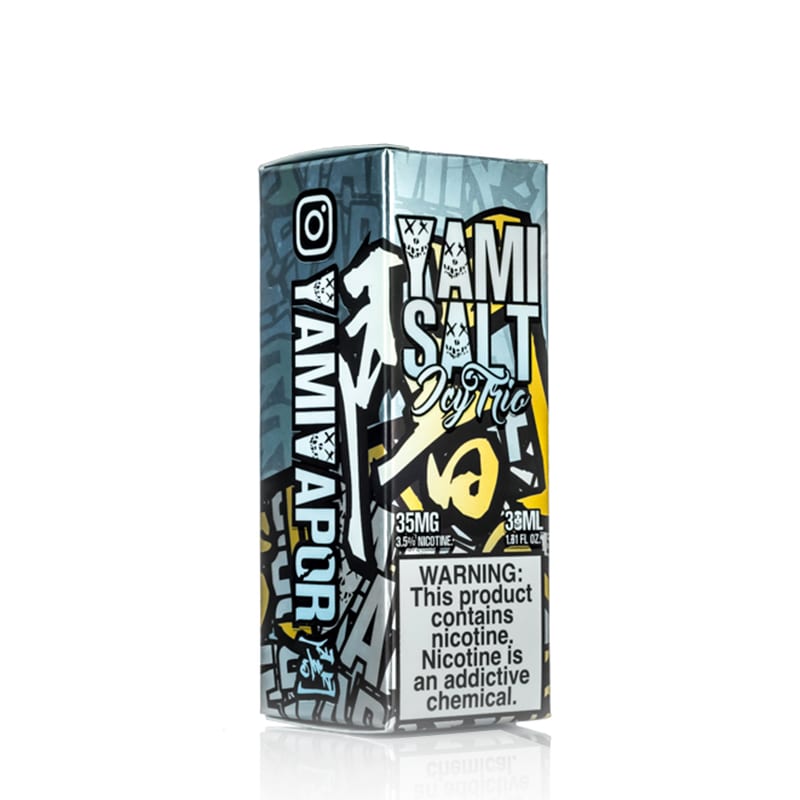 Yami Vapor Salt – Icy Trio 30mL
$12.95
Yami Salt Icy Trio is a refreshingly icy rendition of strawberry, kiwi, and exotic Chinese lychee perfectly blended to perfection for smoothness and an amazing flavor only Yami can deliver. Available in 35mg and 50mg nicotine levels. Comes in a 30 mL bottle.
Description
Yami Vapor Salt Icy Trio is the newest salt nic flavor to be released by industry leader Yami Vapor! Yami Vapor Icy Trio will take your vaping taste buds on an all-expense paid icy journey, where they discover a trio of fruits must be gleaned in order to release the time capsule to get back home to sunnier days and much warmer weather!
First up in your quest for those forbidden frosty fruits is the succulent and exotic oriental lychee. Frozen lychee fruits hang gently in the chilly air, suspended only by cold icicles from the trees. Each exotic fruit is just begging for a chance to be selected.
Next, you find that you have to seek out the wintery rendition of summer's favorite fruit, the sweet and juicy strawberry! Snow-capped strawberries huddle together in their below freezing igloo bushes, yearning for the hot summer sun and the warm breezes summer brings. Finally, you have found the golden egg. The furry fruit with a delectable green flesh, the kiwi.
Thousands of frozen kiwis cling forcibly together in the icy winter breeze, thoroughly enjoying the music their frozen husks make in the icy wind. It's up to you, frozen ninja warrior, to gather these fruits and activate the time capsule that takes you back to the sunny shores of your homeland! Pick up a bottle of this frozen fruit e-liquid and let the icy clean flavor of frozen lychees, chilly kiwis, and frosty strawberries over you in an avalanche of chilly fruit-scented clouds! For those adventurous vapers looking for a mentholated fruit flavor to keep their taste buds shivering with pleasure, look no further than Icy Trio Ejuice by Yami Vapor!
If you are ready to start another adventure be sure to check out our extensive line of salt nic juice and regular eliquids! Available in 35 mg or 50 mg. Comes in a 30 mL gorilla bottle for mess-free refills!
Recommended for use with pod device systems only, and not to be used with RDA's or sub ohm tank devices.
Additional information
| | |
| --- | --- |
| Nicotine Level | |
| Brand | Yami Vapor |
| Volume | 30ml |
| Flavor Category | Fruits, Menthol |
FAQs