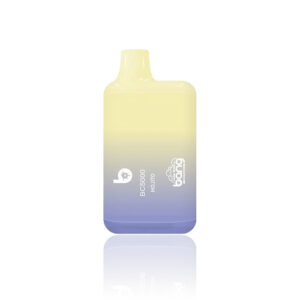 Bang BC5000 Disposable
$9.95
The Bang BC5000 Disposable features 13mL of pre-filled synthetic e-liquid in a selection of 25 delicious flavors, a rechargeable internal battery and a 1.2ohm mesh coil heating element for up to 5000 smooth, satisfying puffs.
Deal Of The Week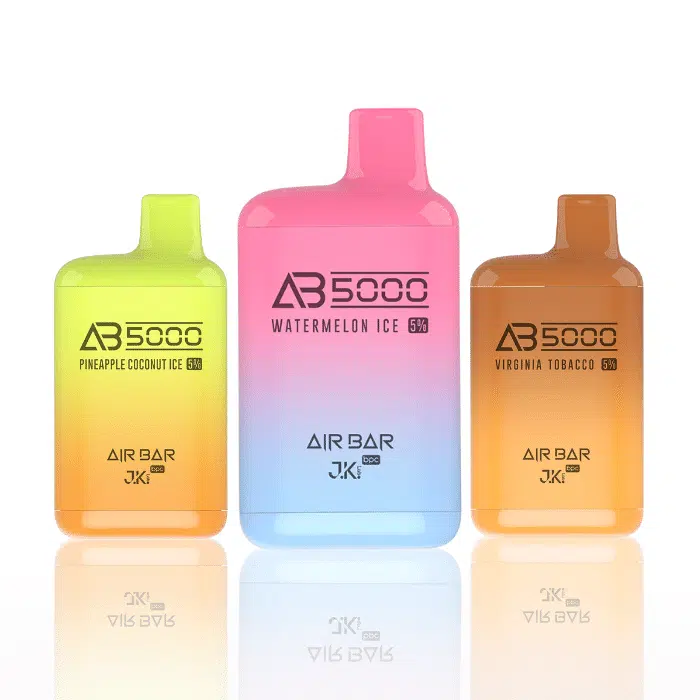 Air Bar AB5000 Disposable 5%
Description
Add a bang to your routine with the Bang BC5000 Disposable device. This state-of-the-art Bang vape offers everything you need and more, with a rechargeable internal battery, 1.2 ohm mesh coil heating element and 13mL of pre-filled synthetic e-liquid in 25 delicious flavors. With this piece, you can indulge again and again for up to 5000 smooth and satisfying puffs.
Bang BC5000 Disposable Specs
13mL Pre-Filled Synthetic E-Liquid
5% (50mg) Nicotine Strength
Rechargeable
650mAh Battery
Draw-Activated Firing Mechanism
1.2ohm Mesh Coil Heating Element
Type-C USB Port
Approximately 5000 Puffs
Flavors
Blueberry Berry Guava:  A sweet mix of fresh blueberries and tangy guava.
Blueberry Cherry: A delightful combination of tart cherries and sweet blueberries.
Blueberry Ice: Fresh fruity blueberries with a punch of frosty menthol.
Blueberry Raspberry Ice: Delicious blueberries and raspberries with any icy menthol twist.
Cherry Blossom Grapes: Crunchy red grapes accented by flowery cherry.
Cool Mint: An eye-opening punch of refreshing mint.
Cranberry Grapes: Crunchy cranberries and red grapes galore.
Energy: A tangy twist on your favorite energy drinks.
Gummy Bear: A sugary sweet treat that's reminiscent of your favorite gummy candies.
Kiwi Passion Fruit Guava: A menage a trois of fresh kiwis, passion fruits and guavas.
Kiwi Lime Cucumber: Sweet kiwis accented by tangy lime and cool cucumber.
Lemon Mint: Tangy lemons with a hint of frosty mint.
Mango Peach: Juicy peaches accented by ripe tropical mangoes.
Orange Fizzy: A spicy fresh take on your favorite orange soda.
Peach Mango Watermelon: A delightful blend of sweet peaches, crunchy watermelon and fresh mangoes.
Pineapple Coconut Ice: Your favorite adult beverage with a frosty menthol twist.
Red Mojito: A fresh, fruity mojito made with your favorite red fruits.
Sour Apple: A tangy punch of super sour green apples.
Strawberry Ice Cream: Rich, creamy ice cream topped with sugary sweet strawberries.
Strawberry Kiwi Fruit: Delightfully sweet strawberries with a touch of fresh kiwi.
Strawberry Mango: Tangy tropical mangoes accented by super sweet strawberries.
Strawberry Milkshake: A creamy, dreamy treat with fresh strawberries and vanilla galore.
Tomato Cream: A unique twist on your go-to cozy soup.
Watermelon Dragon Fruit: Crisp watermelon blended with daringly delicious dragon fruit.
Watermelon Ice: An eye-opening twist of juicy watermelon and frosty menthol.
Additional information
| | |
| --- | --- |
| Brand | Bang |
| Flavor | Blueberry Raspberry Ice, Cranberry Grape, Energy, Kiwi Fruit Passion Fruit Guava, Lemon Mint, Mango Peach, Peach Mango Watermelon, Red Mojito, Sakura Grape, Sour Apple, Strawberry Ice Cream, Strawberry Kiwi Fruit, Strawberry Mango, Watermelon Ice |
| Nicotine Level | |
FAQs