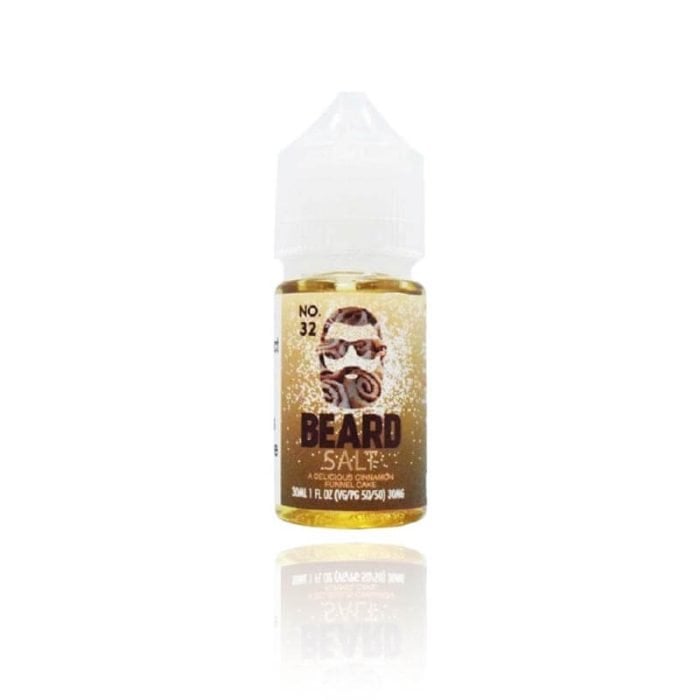 BEARD Vape Co. Salt 30ml – NO. 32
$12.95
Delicious sweet cinnamon-flavored salt that takes you back to your childhood when you visited fairs and carnivals.
Description
One of the newest flavors from Beard Vape Co, the No. 32 lets you take a trip down memory lane and relive the happy moments that you spent as a child with your family. With every whiff, you will go back to the warm, sunny days when you tripped along without a care in the world in between bites of mouth-watering cinnamon funnel cake. Draw in the vapors and sense the warmth of the fried dough rolling on your tongue with the perfect balance of cinnamon and sugar. The sweetness is not so heavy that it overpowers, but is just the right amount to balance the cinnamon.
Close your eyes and breathe in the sights and sounds of amusement parks, seaside resorts, carnivals, ballparks, fairs, and sporting events along with the taste of rich funnel cake laced with cinnamon and topped with sparkling sugar. And, be amazed at how all of those experiences can be crammed into a tiny 30ml bottle. You can safely use the salt in pod systems and atomizers and mods with ultra-low output and wattage. However, it is best that you avoid adding them into devices that reach sub-ohm resistance.
The PG/VG ratio included in the Beard Salt – No. 32 is 40: 60 giving you a light throat hit and delicate clouds of vapor. You'll receive compact 30ml bottles complete with a dropper in the bottle for easy loading and a child-proof cap so you can safely store in a home with pets and kids.
So, go ahead and vape in the morning with your morning coffee and have an enjoyable breakfast of cinnamon toast.
Or, indulge after dinner for a palatable dessert of cinnamon cookies or cake – but, without the calories, perfect for weight watchers. Enjoy!!
Additional information
| | |
| --- | --- |
| Nicotine Level | |
| Brand | Beard Vape Co |
| Volume | 30ml |
| Flavor Category | Dessert |
FAQs