EB Design BC5000 Ultra Disposable
$17.95
The EB Design BC5000 Ultra Disposable offers a slim shape with an eye-catching colorful design, dual mesh coil heating elements and an incredible 13mL of e-liquid capacity for up to 5000 smooth and tasty puffs.
Deal Of The Week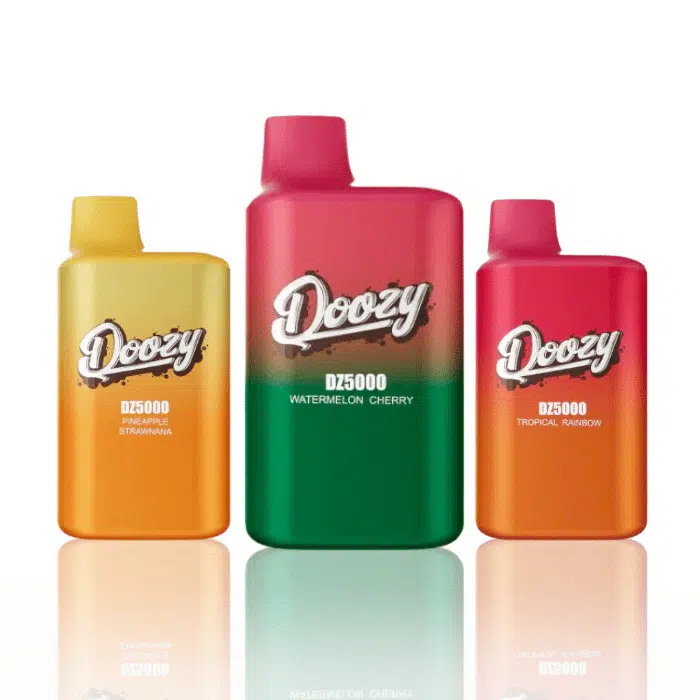 Doozy DZ5000 Disposable 5%
Description
A colorful and innovative device with a sleek silhouette, the EB Design BC5000 Ultra Disposable is the perfect vape to add to any lineup. This portable piece offers a slim shape that packs an amazing rechargeable 650mAh internal battery, dual mesh coil heating elements and up to 13mL of delicious e-liquid capacity for up to 5000 smooth and satisfying puffs, courtesy of EB Design.
EB Design BC5000 Ultra Disposable Specs
Dimensions: 79mm x 41mm x19mm
13mL Pre-Filled Synthetic E-Liquid
5% (50mg) Nicotine Strength
Rechargeable
650mAh Built-In Battery
Dual Mesh Coil Heating Element
Type-C USB Port
Approximately 5000 Puffs
Flavors
Blue Cotton Candy: A fruity twist on sugary cotton candy.
Blue Razz Ice: Tasty blue raspberries with a spicy menthol accent.
Dragon Fruit Banana Berry: Sweet dragonfruits, fresh bananas and a bouquet of ripe berries.
Grape Honeydew: A blend of crunchy red grapes and sweet honeydew.
Kiwi Dragon Fruit Berry: Tropical kiwis and dragon fruits accented by fresh, fruity berries.
Kiwi Passion Fruit Guava: A juicy blend of cool kiwis, fresh passion fruits and tangy guavas.
Mint: A sharp punch of frosty minty goodness.
Orange Soda: A tasty take on your favorite childhood soda.
Raspberry Watermelon: Sugary watermelon accented by freshly picked raspberries.
Strawberry Mango: A classic blend of fruity strawberries and ripe red mangoes.
Strawberry Watermelon Bubble Gum: Your favorite bubblegum with a fruity twist.
Strawberry Watermelon Peach: A mouthwatering concoction of sweet strawberries, juicy watermelons and fresh peaches.
Tobacco: A rich and herbal blend of classic tobacco flavors.
Tropical Rainbow Blast: An explosion of your favorite tropical fruits and citrus.
Watermelon Ice: Juicy watermelon with a punch of frosty menthol.
Additional information
| | |
| --- | --- |
| Brand | EB Design |
| Nicotine Level | |
| Flavor | Blue Cotton Candy, Blue Razz Ice, Dragon Fruit Banana Berry, Grape Honeydew, Kiwi Dragon Fruit Berry, Kiwi Passion Fruit Guava, Mint, Orange Soda, Raspberry Watermelon, Strawberry Mango, Strawberry Watermelon Bubblegum, Strawberry Watermelon Peach, Tobacco, Tropical Rainbow Blast, Watermelon Ice |
FAQs