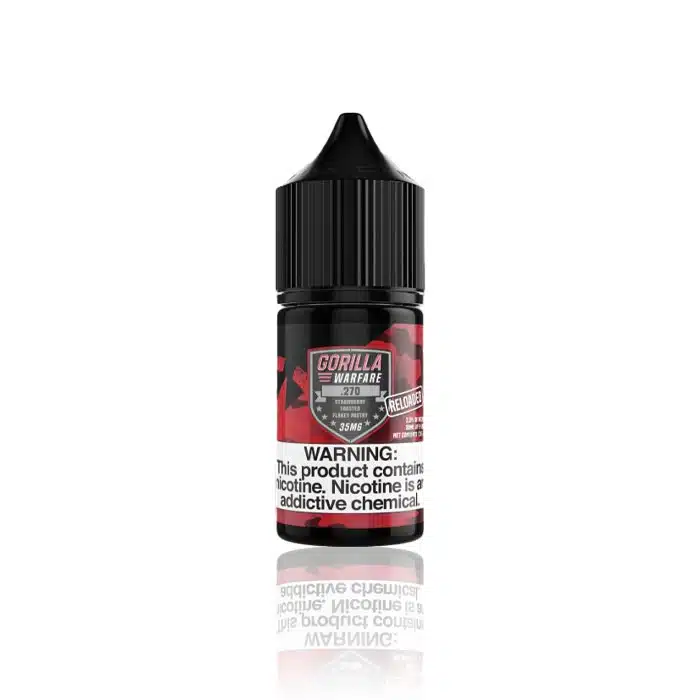 Gorilla Warfare Salt 30mL – .270 Reloaded
$12.95
This nic salt is mind-blowingly good with flavors of buttery pastry, delicious frosting and sweet strawberry jam.
Comes in two strengths. Not for use with sub ohm systems.
Description
What's the only thing better than a flaky, just-out-of-the-oven pastry? One with a dollop of delicious strawberry jam. That's exactly what Gorilla Warfare has done to it's original .270 nic salt. It's been reloaded with notes of sun-ripened, juicy berries. All you need is your vape and a cup of coffee and your morning is set. Gorilla Warfare .270 reloaded salt is complex, smooth and exactly what your sweet tooth wants.
The Perfect Combo
Who doesn't love a little something sweet in the morning? But pastry? Ain't nobody got time for that. Instead, satisfy your sweet tooth and enjoy a little nicotine pick me up. .270 Reloaded Salt from Gorilla Warfare eliquid. provides a satisfying flavor no matter when you hit it. Imagine the scent of a bakery, the air just wafting with the aromas of layers of light pastry, sugary icing and juicy strawberry jam. The flavors come together in this salt so well your taste buds won't believe you're not actually eating.
Pull on your vape to experience the insanity yourself. Yeasty, carby goodness cut with a sugary glaze and strawberry. How do they do it?
Flavor and Texture Profile
The core of this vape juice is buttery, yeasty pastry that's light and flaky, the way it should be. The flavors pop thanks to a sweet addition of icing and then it's held together by sticky strawberry jam. The jam is the right balance of sweet and tart so that this Gorilla Warfare salt stays light and fresh, never heavy and cloying. You're going to love these decadent salt nic juice even if you don't have a sweet tooth!
Gorilla Warfare .270 Reloaded Nic Salt Specs
30 mL bottle
choose 35 or 50 mg strength
VG/PG Ratio of 70/30
Unicorn Bottle
Additional information
| | |
| --- | --- |
| Brand | Gorilla Warfare |
| Nicotine Level | |
| E-liquid Type | Nicotine Salts |
| Volume | 30ml |
| Flavor Category | Bakery, Dessert |
FAQs