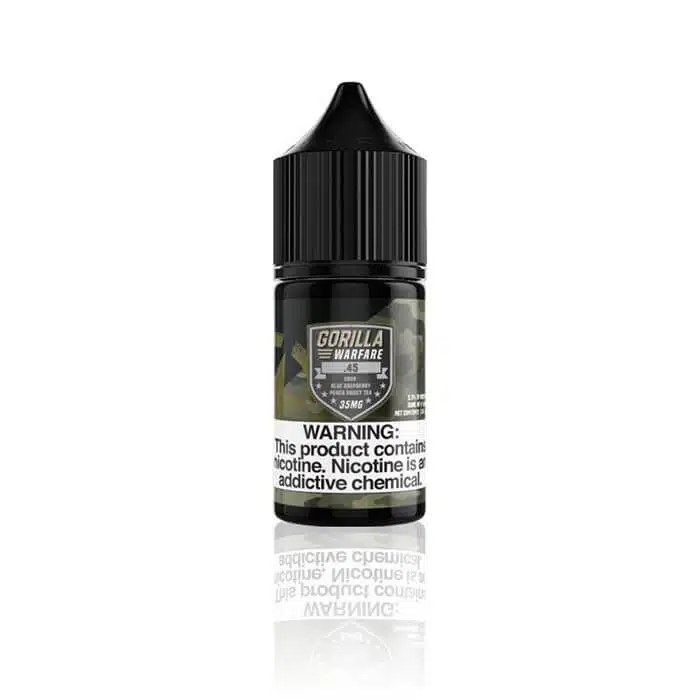 Gorilla Warfare Salt 30mL – .45
$12.95
Nic salt from Gorilla Warfare flavored with sweet peach iced tea and sour raspberry. .45 salt from Gorilla Warfare is the perfect blend of texture and flavor.
Comes in two nicotine strengths. Not for use with sub ohm systems.
Description
Peach iced tea and sour blue raspberry. On their own, these two flavors have been beloved since the 90s. But only Gorilla Warfare could think up putting them together creating one of the most incredibly complex and dangerously delicious eJuices on the market. Sun ripened peaches are perfectly sweet but never too sweet thanks to the slightly astringent feel of the smooth tannins in the tea. And then there's that sour pucker of blue raspberry, reminding you of high school and those sweet, sour Slurpees you sucked down while driving with the windows down and the stereo up. Gorilla Warfare .45 nic salt is just begging for you to take a pull.
Perfect Nostalgia Right in Your Hand
Bold. Bodacious. Bitchin'. There aren't enough b-words to describe the awesomeness of this Gorilla Warfare salt. A base of tannic black tea has just the right amount of smooth tannins to keep the sun-grown peaches from taking over and then there's just a dash of sour raspberry to keep things interesting. Gorilla Warfare nic salts has done it again. Sweet, sour and bitter is the combo you've been craving without you even knowing it. One hit of this flavor and you'll be transported back to carefree rides and those crazy summer nights. The best part? Your mouth won't turn blue and you won't get jittery from the sugar. Nope, all the taste and none of the weirdness. Plus, you can enjoy it any time of year, and any time of day (or night).
Pull on your vape to enjoy iced tea with peaches and the zing of sour blue raspberry again and again.
Flavor and Texture Profile
Slightly bitter tannins keep your taste buds on high alert and craving the quenching refreshment of sweet peach iced tea. Then the sour blue raspberry hits and it's impossible not to want more. The combination keeps things interesting in the moment and also clears your palate keeping it ready for the next assault of perfectly-blended flavors and textures. Weren't you saying you wanted to try a new salt nics flavor? Here ya go!
Gorilla Warfare .45 Specs
30 mL bottle
choose 35 or 50 mg strength
VG/PG Ratio of 70/30
Unicorn Bottle
Additional information
| | |
| --- | --- |
| Brand | Gorilla Warfare |
| Nicotine Level | |
| E-liquid Type | Nicotine Salts |
| Volume | 30ml |
| Flavor Category | Candy |
FAQs