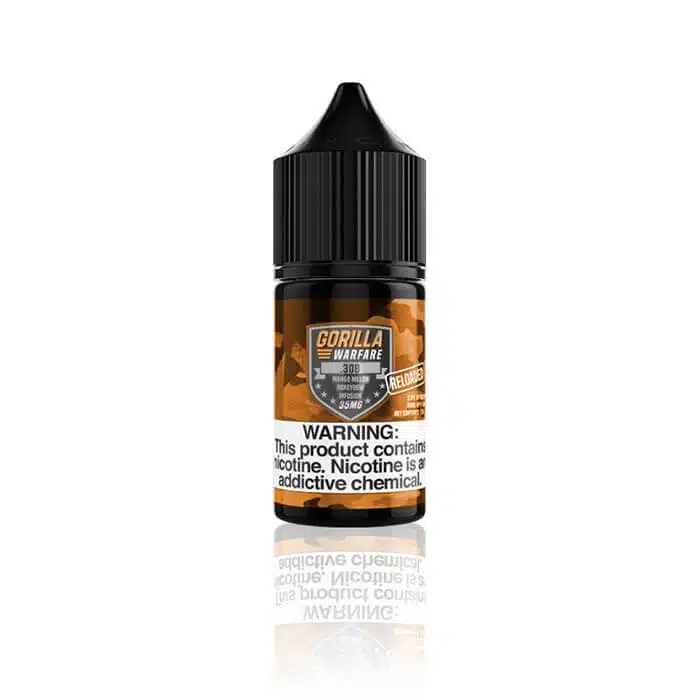 Gorilla Warfare Salt 30mL – .308 Reloaded
$12.95
Gorilla Warfare .308 Reloaded nic salt is all about the melon: honeydew, a mix of melons and some mango to keep it interesting. Rich, round and soft this is a palate pleaser.
Comes in two nicotine strengths. Not for use with sub ohm systems.
Description
Honeydew's great on its own but this vape flavor is next level thanks to the addition of mango and melon. The soft, silky flavors are a blissful blend of tropical delights that work any time of year. Your taste buds won't want you to stop wrapping them in this silken, sweet delight that's anything but subtle.
Here on Your Tropical Island
You make the rules. And you get to break them, too. Whomever said you can get too much of a good thing has never tried Gorilla Warfare .308 Reloaded nic salt. Believe us. Because there's all kinds of good things here but none of it is too much. There's not too much rich, delicious tropical flavor. And there's not too much of the beautiful mango notes that balance it. They've thrown in a magical mix of other melons, too and it's still not too much.  The luxurious taste, feel and delicious-smelling cloud from this vape is exactly what you needed, in any amount. Thanks, Gorilla Warfare ejuice for making us feel like absolute royalty.
Flavor and Texture Profile
Rich. Round. Ridiculously good. You won't be able to get enough of this tropical triple threat. Gorilla Warfare .308 Reloaded nic salt is one of our best-selling eJuice flavors for a reason. It blends some intensely rich flavors and yet is never cloying. You're not getting sick of this one any time soon! Enjoy tropical melon and mango notes with a core of honeydew and a softness that can't be beat.
Gorilla Warfare Salt .308 Reloaded Specs
30 mL bottle
choose 35 or 50 mg strength
VG/PG Ratio of 70/30
Unicorn Bottle
Additional information
| | |
| --- | --- |
| Brand | Gorilla Warfare |
| Nicotine Level | |
| E-liquid Type | Nicotine Salts |
| Volume | 30ml |
| Flavor Category | Fruits |
FAQs