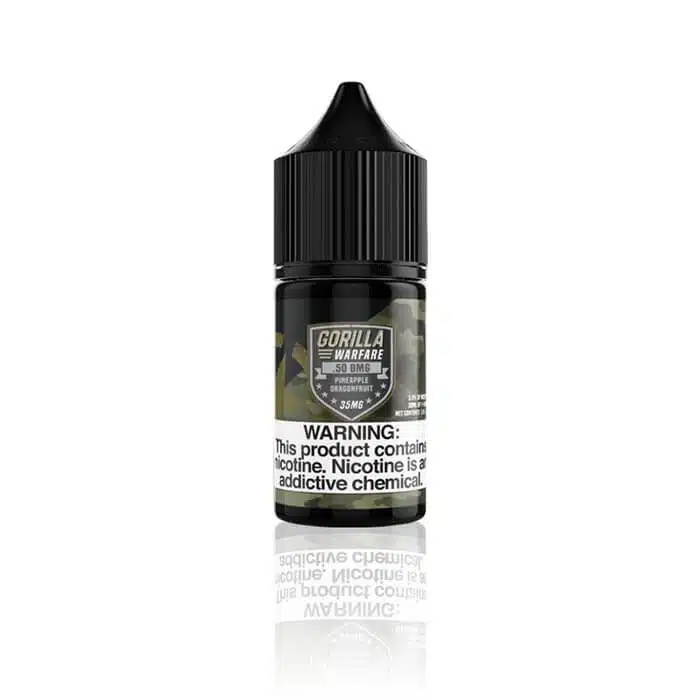 Gorilla Warfare Salt 30mL – 50 BMG
$12.95
Gorilla Warfare .50 BMG nicotine salt is all about pineapple balanced with light, refreshing dragon fruit.
Comes in two nicotine strengths. Not for use with sub ohm systems.
Description
This tropical twist of pineapple and dragon fruit is the perfect flavor for literally everyone. Enjoy the fresh, super sweet flavor of sun-ripened, juicy pineapple followed by the refreshing lightness of dragon fruit. And then do it all over again. Your taste buds are craving this so hard. Gorilla Warfare 50 BMG salt keeps the pineapple fresh and ready for you, no matter where the day takes you.
It's all About Balance
Pineapple. We'll take it any way it's being served: grilled, frozen, in a smoothie. Even canned. We just can't get enough pineapple. That's why we can't get enough of this nic salt flavor from Gorilla Warfare ejuice. That spindly sucker takes center stage here but the brains behind the flavor added a little surprise: light, refreshing dragon fruit. This wash of light, almost kiwi-flavored goodness refreshes the palate to make sure the pineapple isn't too sweet and makes sure that the second, tenth and twentieth hit of the day taste just as good as the first.
Take a hit and enjoy the ripe pineapple core that gets wiped away on the exhale. No sticky fingers so you can enjoy it absolutely anywhere.
Flavor and Texture Profile
Heavy, round, ripe pineapple balanced with its natural acidity wakes up your taste buds and will have them begging for more instantly. You'll love the rich feel and tropical flavors but won't be left with a dry mouth or get sick of it. Instead, light dragon fruit settles things down and resets your palate so it's ready for the next blast of pineapple perfection. This eliquid is a favorite for obvious reasons, get a few!
Gorilla Warfare Salt 50 BMG Specs
30 mL bottle
choose 35 or 50 mg strength
VG/PG Ratio of 70/30
Unicorn Bottle
Additional information
| | |
| --- | --- |
| Brand | Gorilla Warfare |
| Nicotine Level | |
| E-liquid Type | Nicotine Salts |
| Volume | 30ml |
| Flavor Category | Fruits |
FAQs