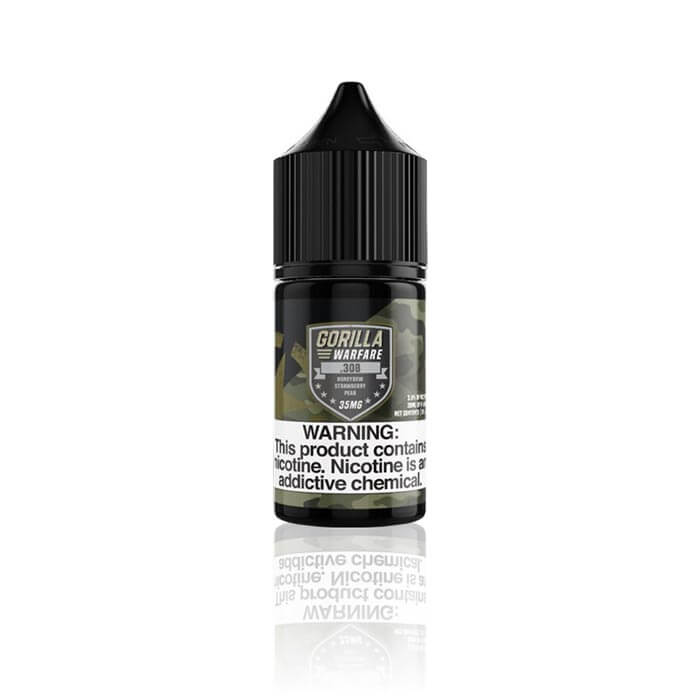 Gorilla Warfare Salt 30mL – .308
$12.95
A fruit salad of sun-ripened honeydew melon, strawberry and pears. Perfect for those who like sweet without spice or cream and enjoy the lingering aromas of the cloud. Sure to be added to your rotation of favorite flavors.
Comes in three nicotine strengths. Not for use with sub ohm systems.
Description
Take a pull of this fruit-filled juice and forget your troubles for a while. Like sipping a cocktail poolside, it's impossible not to chill a bit when these flavors start dancing on your tastebuds. Gorilla Warfare .308 gets straight to the point with a tropical core of honeydew surrounded by strawberry and pear.
Fascinating Fruit Flavors
Look, we get it. We'd also sit around eating fruit all day if we could but we've got places to go and people to see. Our solution? Gorilla Warfare nic salts. A rounded core of sun-sweet honeydew provides extraordinary depth on its own but this eJuice doesn't stop there. Instead, strawberries offer a tart bite of red berry flavor that keeps your tastebuds alert. The unexpected flavor of pear is the perfect finish, and keeps things interesting. Why enjoy one flavor when you can enjoy three? Because the honeydew hits first and the pear last, each pull is fresh and new.
For maximum enjoyment exhale through your nose, providing the fullest journey through this tropical-island paradise. No expensive produce. No sticky fingers. Just a smooth, complex flavor you can hit all day and night.
Flavor and Texture Profile
Tropical melon, tart red berry and orchard pear swirl and dance from first pull through the finish, keeping you refreshed and satisfied. This is the best eJuice that transports you to the sunny white sands of a tropical resort where the only thing you have to decide is when to flip for maximum sun exposure.
Gorilla Warfare Salt .308 Specs
30 mL bottle
choose 35 or 50 mg strength
VG/PG Ratio of 70/30
Unicorn Bottle
Additional information
| | |
| --- | --- |
| Brand | Gorilla Warfare |
| Nicotine Level | |
| E-liquid Type | Nicotine Salts |
| Volume | 30ml |
| Flavor Category | Fruits |
FAQs