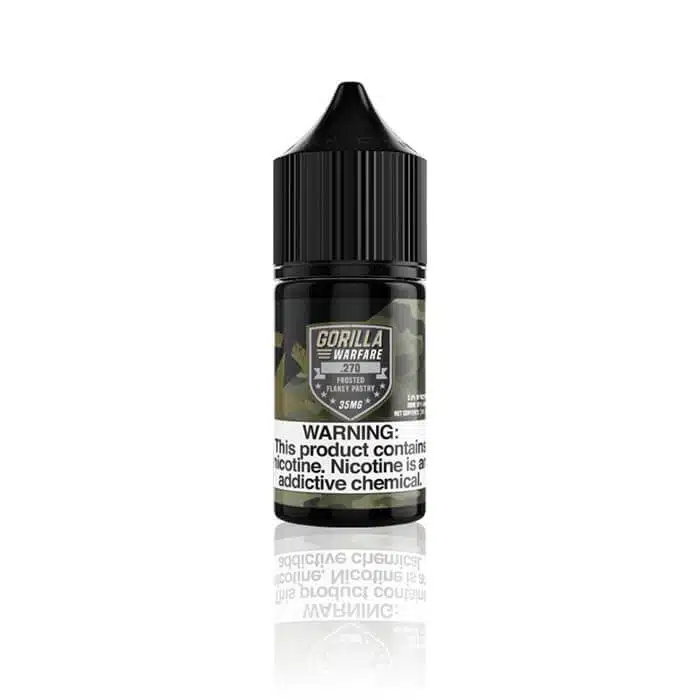 Gorilla Warfare Salt 30mL – .270
$12.95
This nicotine salt is packed with the delicious flavors of fresh, flaky pastry perfect for when you're craving a little something sweet along with your nic fix.
Comes in two nicotine strengths. Not for use with sub ohm systems.
Description
Enjoy a sweet treat with your first hit of the day and pick-me-ups throughout. Gorilla Warfare eliquid .270 delights your tastebuds with the delicious taste of a freshly-baked, flaky pastry.
How Sweet This Is
Forget counting calories, sticky fingers or the trip to the expensive bakery. This nic salt flavor packs a sweet punch, reminding you of a flaky danish or sugar-coated croissant eaten in the car straight from the bag. The lightness of the flavor guarantees it's sweet but never sickeningly so your mouth will stay fresh and have a clean feeling.
Take a pull and enjoy as the sweet vapor fills your mouth with the light, yeasty flavor of your favorite baked goods or that delicious bowl of Frosted Flakes enjoyed with Saturday Morning Cartoons. Smooth but firm on the inhale, the flavor is light and sweet on the exhale. You didn't know vaping could taste this good.
Flavor and Texture Profile
Butter, yeast and vanilla combine in this creamy vape nic juice providing an experience much like eating fresh pastries without the mess or calories. The warm vanilla flavor perfectly compliments the sweetness, just like the sugary glaze on a donut or cruller. Soft, smooth and satisfying.
Gorilla Warfare Salt .270 Specs
30 mL bottle
choose 35 or 50 mg strength
VG/PG Ratio of 70/30
Unicorn Bottle
Additional information
| | |
| --- | --- |
| Brand | Gorilla Warfare |
| Nicotine Level | |
| E-liquid Type | Nicotine Salts |
| Volume | 30ml |
| Flavor Category | Bakery, Dessert |
FAQs