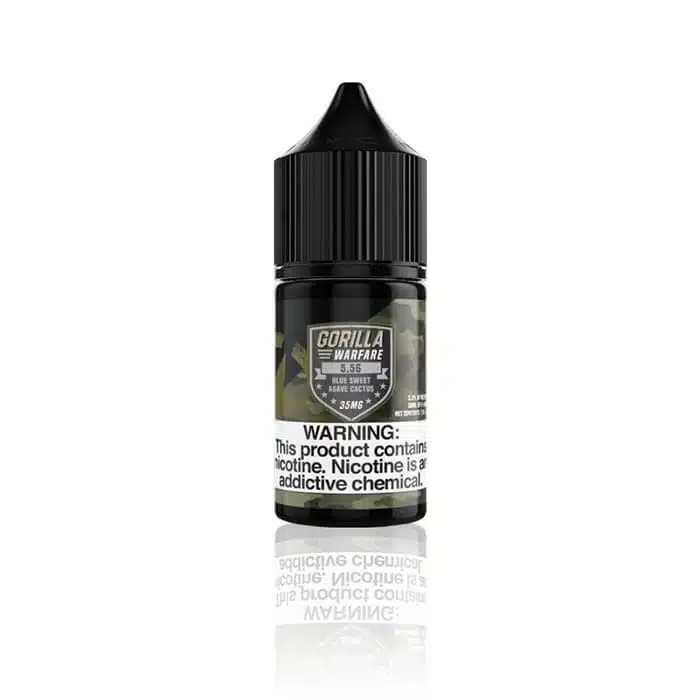 Gorilla Warfare Salt 30mL – 5.56
$12.95
Nic salt from Gorilla Warfare flavored to taste and feel like refreshing agave. The 5.56 salt from Gorilla Warfare is an understated but addictive vaping experience.
Comes in two nicotine strengths. Not for use with sub ohm systems.
Description
Nice guys finish last, right? So stay prickly, friend. Start with Gorilla Warfare 5.56 Nic Salt. Enjoy the light, sweet flavor of agave straight from a ripe cactus ripened by the desert sun. Agave is a natural sweetener that's more robust than sugar and also not as over-the-top sweet. Instead, this natural flavor is fresh and light, as if you added some honey to a fresh glass of water and it quenched your deepest thirst. Seriously. We're not exaggerating. Don't get us wrong, we love all of Gorilla Warfare salt flavors as much as the next guy, but this one is a real gem. Don't be fooled by the simplistic description.
Easy Like a Sunday Mornin'
This simple, one-note salt from Gorilla Warfare is like nothing you've tasted. Unless you regularly find yourself in the desert cutting open plants and drinking from them. Fresh, light agave (the #1 ingredient in tequila) fills your mouth, throat and longs with a soft, sweet and thirst-quenching sensation that never gets old. The perfect ejuice for when you just don't want a ton of flavor but do want to enjoy a gorgeous, smooth experience. Gorilla Warfare ejuice has kept it super simple and yet it's one of the best, most popular flavors out there. Perfect for when you just want to enjoy something light and soothing.
Take a hit and enjoy the light, fresh, sweetness of pure, natural agave.
Flavor and Texture Profile
Have we mentioned that this one is a real treat? Perfect for when you're looking to enjoy something chill. Give your taste buds a break from fruity treats and dessert-flavored eliquid and instead, try something light, fresh and natural. It'll just take one hit to realize why this understated gem is such a fan favorite.
Gorilla Warfare Salt 5.56 Specs
30 mL bottle
choose 35 or 50 mg strength
VG/PG Ratio of 70/30
Unicorn Bottle
Additional information
| | |
| --- | --- |
| Brand | Gorilla Warfare |
| Nicotine Level | |
| E-liquid Type | Nicotine Salts |
| Volume | 30ml |
| Flavor Category | Fruits |
FAQs