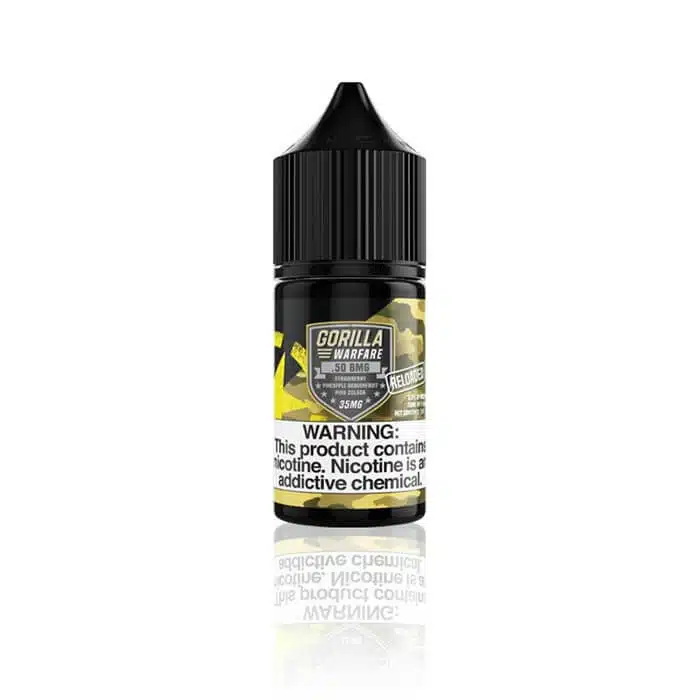 Gorilla Warfare Salt 30mL – 50 BMG Reloaded
$12.95
Nic salt from Gorilla Warfare .50 BMG reloaded is a perfect, punchy blend of strawberries, pineapple, dragon fruit and pina colada. This eJuice should come with a drink umbrella.
Comes in two nicotine strengths. Not for use with sub ohm systems.
Description
No chance for a vacation this year? There's no substitute but Gorilla Warfare Salt .50 Reloaded can at least scratch one vacation itch: that fruity poolside drink. This salt nic juice is an unapologetic blend of strawberry, pineapple, dragon fruit and pina colada, providing a refreshing break from the day. These flavors mix and mingle to keep your taste buds awake and alert and never tires them out. Soft, sun-ripened strawberry gives way to the shock of sweet-tart pineapple. Next there's a refreshing burst of dragon fruit and finally the boozy roundness of coconut and booze (with bonus pineapple!) to reset it all before your next pull. Yowza.
Booze has Never Been so Refreshing
Gorilla Warfare is showing off their skills again this time with a melange of fruity, boozy goodness also known as .50 BMG Salt Reloaded. Your taste buds will welcome the inhale of fresh strawberries and be satisfied, until the pineapple hits and they realize that they, like you, deserve more! Pineapple can be a little much after a while so as you start to inhale you'll notice the light, kiwi-esque notes of dragonfruit keeping things fresh. The exhale has notes of rum, coconut and pineapple to refresh you.
The sharp twinge of pineapple and rum blended with the smooth roundness of coconut keep your tastebuds guessing until your next hit when the strawberry restarts the flavor adventure all over again. Gorilla Warfare nic salts .50 Reloaded is bound to be your new fav for chill days, stressful days and everything in between.
Flavor and Texture Profile
A choreographed dance of sun-ripened sweet, juicy strawberries, tart ripe pineapple, refreshing dragonfruit and fun pina coloada flavors. This eJuice has everything your craving if a pool, some sun and seriously chill times is your jam.
Gorilla Warfare Salt .50 Reloaded Specs
30 mL bottle
choose 35 or 50 mg strength
VG/PG Ratio of 70/30
Unicorn Bottle
Additional information
| | |
| --- | --- |
| Brand | Gorilla Warfare |
| Nicotine Level | |
| E-liquid Type | Nicotine Salts |
| Volume | 30ml |
| Flavor Category | Fruits |
FAQs