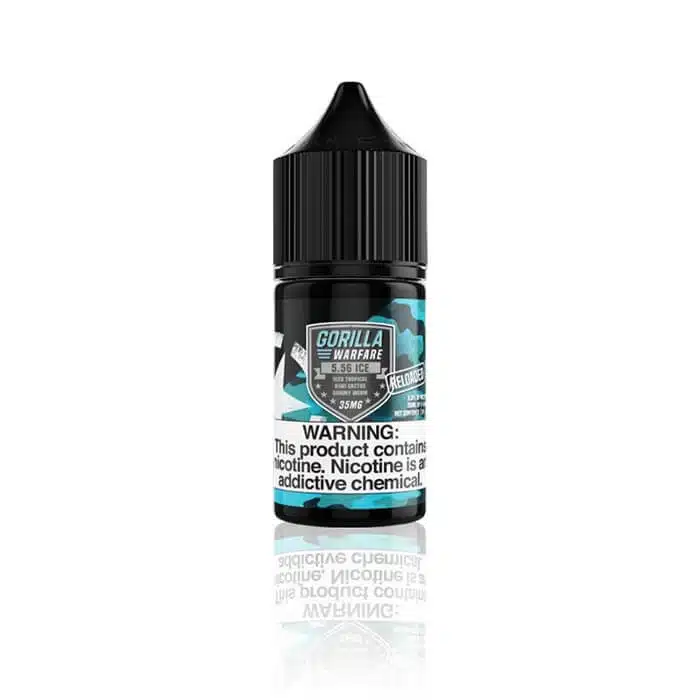 Gorilla Warfare Salt 30mL – 5.56 Reloaded
$12.95
Gorilla Warfare 5.56 reloaded nic salt blends refreshing, thirst-quenching tropical kiwi with the smooth sweetness of cactus juice. Then they top it off with a sweet gummy worm. It really doesn't get any more finessed when it comes to sweet vape flavors.
Comes in two nicotine strengths. Not for use with sub ohm systems.
Description
Head to the dessert with this trippy mix of kiwi, cactus and sweet gummy bears. Believe it or not, these flavors work so well in tandem you won't believe no one has made this blend before. Kiwi is a light, quenching tropical fruit with a flavor that mixes all of your favorite parts of melon and strawberry. Imagine that soaked in honey. Your taste buds will crave this refresher all day and night. On the exhale enjoy the smooth sweetness of chewy, fruity gummy worms like a sweet treat. We love the balance of fresh fruit and natural sweetness with the fun pop of gummy candy at the end.
The Perfect Sweet Treat
Kiwi brings tropical refreshing flavor to you in a way you've never imagined it, sweetened with the delightfully light juice of desert cactus. Add to that a pop of sweet gummy candy and there's nothing else your taste buds could crave except another hit of this delightfully smooth nic salt.
The simple blend of sweet flavors makes Gorilla Warfare ejuice Salt 5.56 Reloaded a favorite with those who crave a sweet, but light vape experience. No over-the-top flavors here. Just a nice, light blend of natural sweetness and candy in a juicy tropical cocktail. Perfect for the vapor with a refined palate who loves sweet stuff, except when it's too sweet. Don't be scared away by the gummy worms, you'll love how they make the kiwi and honey flavors pop!
Flavor and Texture Profile
Round and soft, this blend of fruit, natural sweetener and gummy bears is a fan favorite for a reason. It's the perfect way to enjoy something not-too-sweet that's exactly sweet enough. Gorilla Warfare has done it again with this vape juice nic salt and 5.56 Reloaded is exactly what you didn't know you wanted.
Gorilla Warfare Salt .50 Reloaded Specs
30 mL bottle
choose 35 or 50 mg strength
VG/PG Ratio of 70/30
Unicorn Bottle
Additional information
| | |
| --- | --- |
| Brand | Gorilla Warfare |
| Nicotine Level | |
| E-liquid Type | Nicotine Salts |
| Volume | 30ml |
| Flavor Category | Candy, Fruits |
FAQs