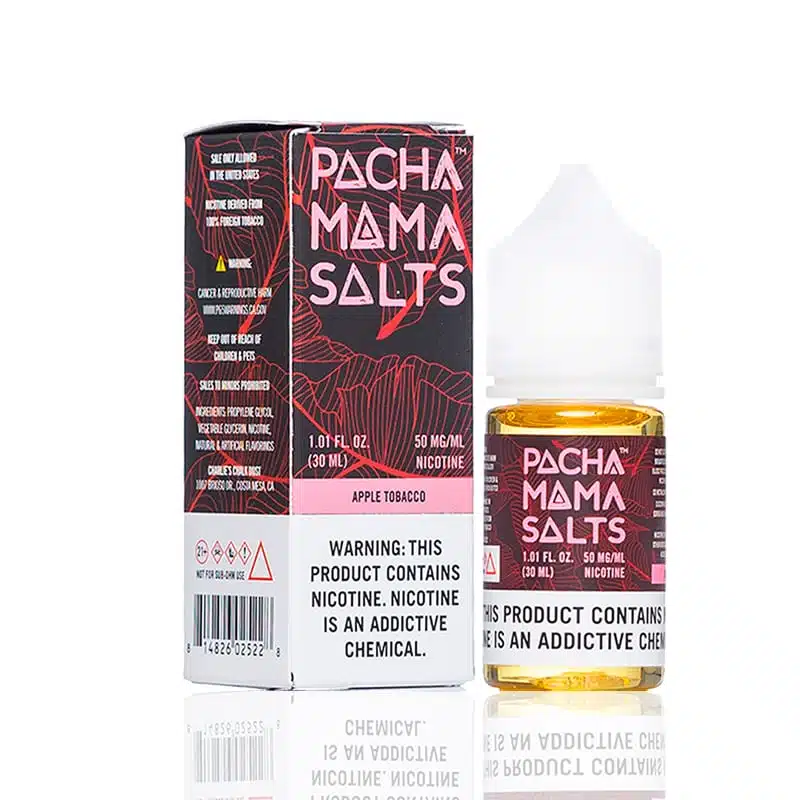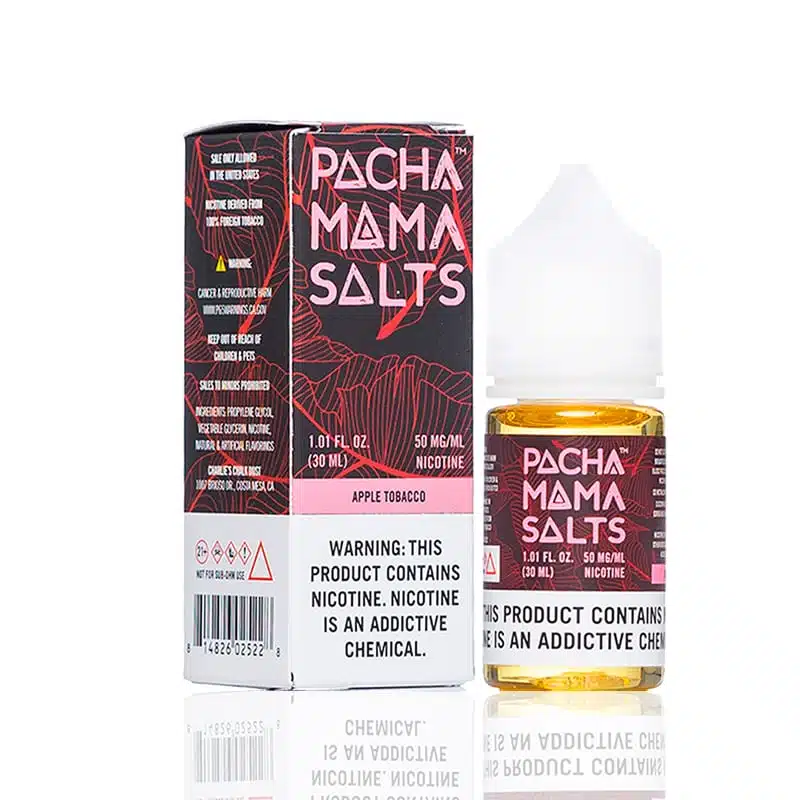 Pachamama Salts – Apple Tobacco – 30mL
$12.95
A serious blend of sun-ripened crisp apples wrapped in smooth, premium tobacco. Pacha Mama Apple Tobacco salt blends apple and tobacco for a stellar experience.
Not intended for use with sub ohm systems.
Description
Crisp, fresh apples picked at the height of harvest are at the core of this delightful, fruity blend of sweet, tart and bitter. But that's not all, the fruit core is wrapped in the smooth, earthy notes of high-quality tobacco. You'll love this interesting flavor combo, especially if you're vaping to quit. Apple Tobacco Nicotine Salt is a grown-up blend of fruit and tobacco that tastes and smells like the best part of fall.
An Uncommon Blend
There's just something about biting into a crisp, ripe apple. With so many versatile flavors, apples complement each other and don't need much more to be delicious. That said, this Pacha Mama juice takes things a step further to delight with the addition of smooth, premium tobacco.
Sun-dappled apples dance on a cloud of delicious tobacco on your tongue blending more texture and flavor than you thought possible and keeping you satisfied. You'll be shocked by how well these flavors go together and sure to make Apple Tobacco nicotine salt a regular in your rotation. After all, it tastes and feels like your favorite sweater, and you still haven't gotten enough of that.
When you're in the mood for sweet, but not a dessert-flavored ejuice, this flavor does the trick with complex apple notes and a smoothness beyond compare
Flavor and Texture Profile
An awesome blend of everything apple fills your mouth upon pulling: sweet, tart, even a little of that nice bitter apple note. It's juicy and fresh and quickly you'll notice the sweetness of delicious tobacco wrapping the apples and keeping things interesting. The exhale is deeply satisfying with rich tobacco notes.
Perfect for when you're craving a sweet, but not too sweet, grown-up treat.
Pacha Mama Apple Tobacco Nicotine Salt Specs
30 mL bottle
choose 25 or 50 mg strength
VG/PG Ratio of 50/50
Unicorn Bottle
Additional information
| | |
| --- | --- |
| Brand | Pacha Mama |
| Nicotine Level | |
| E-liquid Type | Nicotine Salts |
| Volume | 30ml |
| Flavor Category | Fruits, Tobacco |
FAQs