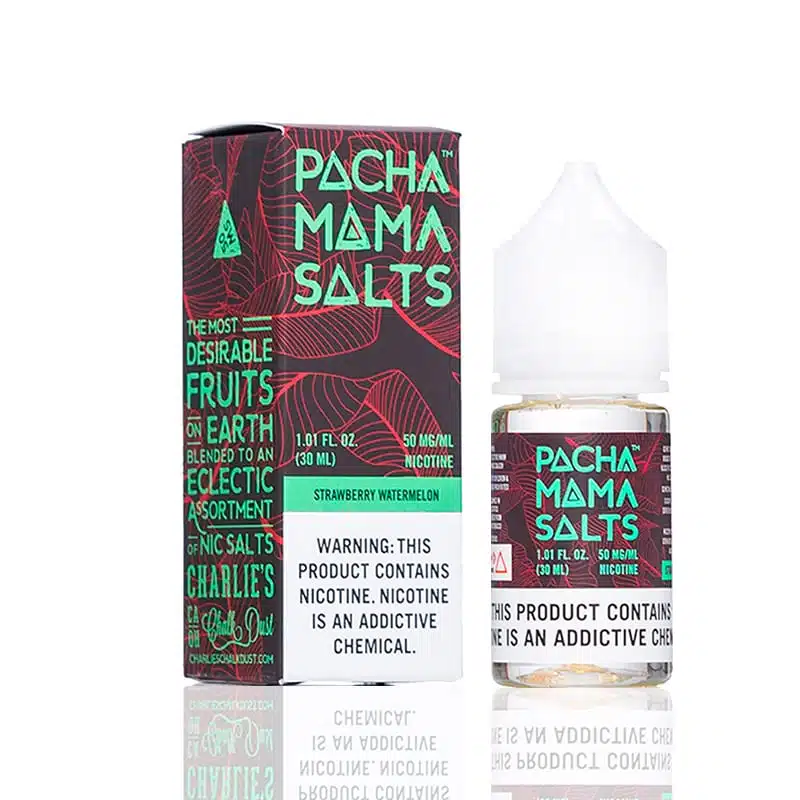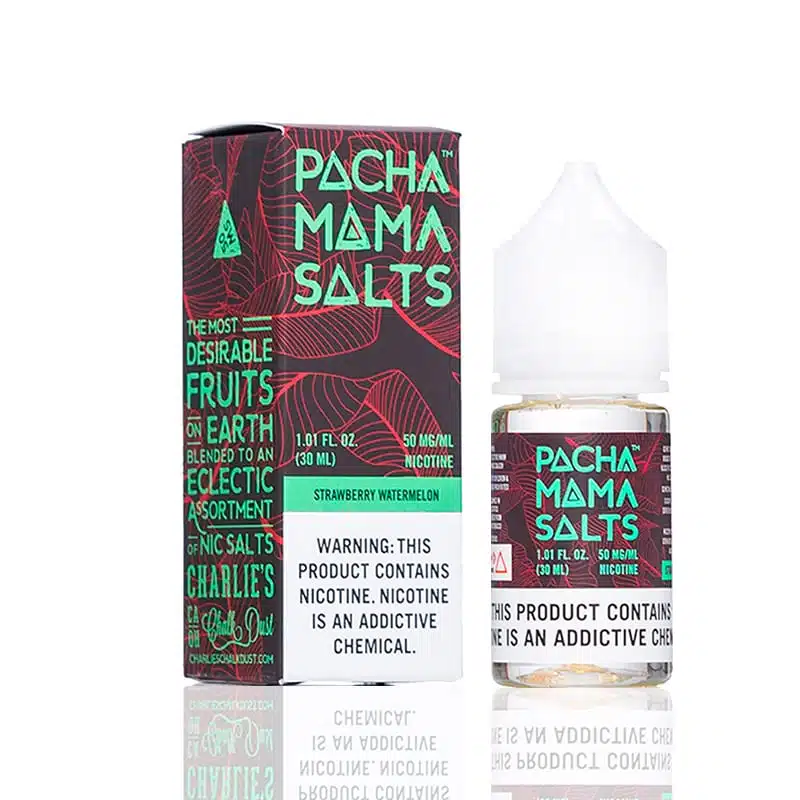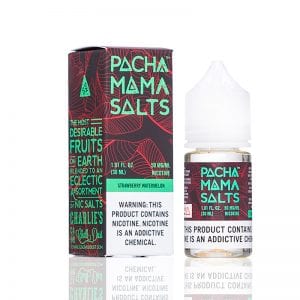 Pachamama Salts – Strawberry Watermelon – 30mL
$12.95
Sweet watermelon takes the stage after a tart, ripe strawberry opener. A delicious blend of everyone's favorite red-fruit flavors. Not intended for use with sub ohm systems.
Description
Two candy classic flavors meet in this  Pacha Mama ejuice: pink Starburst and watermelon Jolly Rancher. Yeah, it's that good. While the start is all super-ripe strawberry, with a sweetness that can't be beat, watermelon flavors quickly develop and move in with a juicy freshness you'll want to hit again and again.
Juicy Berries and Pink Melon
We all love red fruit. And two flavors that are incredibly popular are strawberries and watermelon. Why not blend them? That's what this vape nic juice does and does it perfectly. It tastes of everything you love: long summer days and nights that are filled with good music, friends and the sense of timelessness that only comes during that three-month span of freedom.
This combo keeps it fresh by making sure to follow the sweet notes of sun-ripened strawberries with tropical watermelon notes that are so juicy you'll forget you're not actually eating a bowl of delicious red fruit. This vape is perfect all day. Any day.
Flavor and Texture Profile
Right out of the gate this vape hits your taste buds with delicious, perfectly ripe strawberries. Picture the deeply red ones that are still firm but deliciously sweet. The mouthfeel is soft and silky but there are definitely tart notes to keep things interesting. The tart acidity perks up your tongue and gets it ready for quite the transformation. As soon as the vapor hits the back of your throat with a shot of strawberry goodness you'll notice the watermelon flavors start to bloom with a tropical tinge that refreshes your mouth through the exhale, leaving you ready for more.
We love the juicy, refreshing feel of the watermelon that washes everything away leaving you and your taste buds ready for another hit. And then another.
Pachamama Strawberry Watermelon Nicotine Salt Specs
30 mL bottle
choose 25 or 50 mg strength
VG/PG Ratio of 50/50
Unicorn Bottle
Additional information
| | |
| --- | --- |
| Brand | Pacha Mama |
| Nicotine Level | |
| E-liquid Type | Nicotine Salts |
| Volume | 30ml |
| Flavor Category | Fruits |
FAQs