Sale!
Snowwolf Ease 8000 Disposable
The Snowwolf Ease 8000 Disposable vape features 18mL of e-liquid capacity, 20 delicious flavors and a rechargeable battery for up to 8000 satisfying puffs.
Deal Of The Week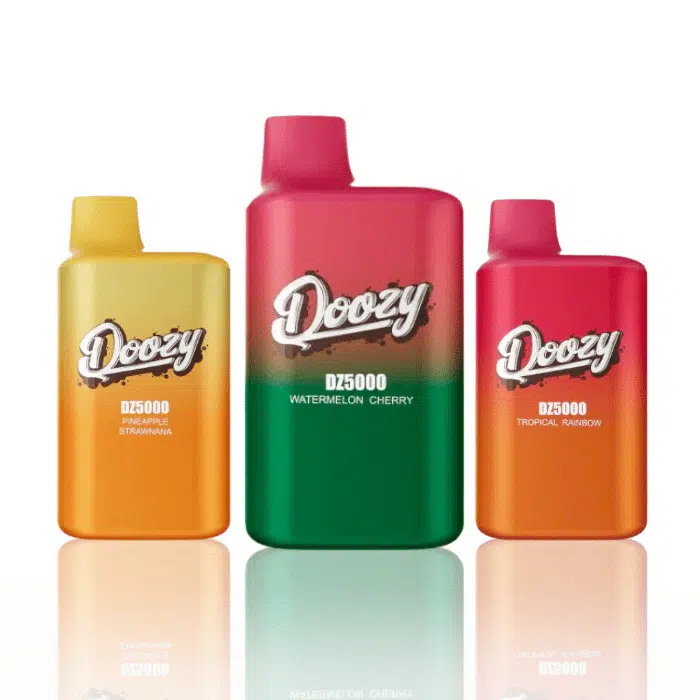 Doozy DZ5000 Disposable 5%
Description
Add a playful feel to any cloud with the Snowwolf Ease. This unique piece features an eye-catching slushee-like design with a slim, portable silhouette and rechargeable 650mAh battery. With an amazing 18mL capacity and 20 delicious e-liquid flavors to choose from, you can indulge in this sweet treat any time you need for up to 8000 satisfying puffs.
Snowwolf Ease 8000 Disposable Specs
Dimensions: 40mm x 108mm
18mL Pre-Filled Synthetic E-Liquid
5% (50mg) Nicotine Strength
Rechargeable
650mAh Battery
Draw-Activated Firing Mechanism
1.0ohm Mesh Coil Heating Element
Adjustable Airflow Control
Type-C USB Port
Approximately 8000 Puffs
Flavors
Apple Blue Razz: Tart apples with a twist of sour blue raspberry candy.
Blueberry Kiwi Lemon: Fresh blueberries, tropical kiwis and tart lemon combine.
Blue Cotton Candy: Freshly prepared sugary blue raspberry cotton candy.
Blue Razz Ice: A tangy blue raspberry slushee with a punch of menthol.
Clear: A smooth, flavorless option that will leave you satisfied.
Green Apple Jelly: Fruity and sugary green apple jam.
Icy Mint: A frosty explosion of fresh mint.
Lemon Mint: Icy mint accented by tongue-tingling lemons.
Lush Ice: A satisfying twist with a hint of menthol.
Lush Mango: Fresh fruity mango with a satisfying finish.
Mango Berry Ice: Sweet berries, juicy mangoes and spicy menthol.
Peach Mango Watermelon: A juicy blend of ripe peaches, tropical mangoes and crunchy watermelon.
Pear Cotton Candy: A unique blend of sugary cotton candy and ripe pears.
Pineapple Coconut Ice: A tropical twist of tangy pineapple, creamy coconut and frosty menthol.
Rose Grape: Sweet, crunchy red grapes with a flowery rose twist.
Strawberry Banana Ice: A fresh blend of spicy menthol, ripe strawberries and sweet bananas.
Strawberry Ice Cream: A creamy, delightful ice cream treat with hints of fresh strawberries.
Strawberry Pina Colada: Your favorite adult beverage in a smooth, cloud-like form.
Triple Berry Ice: A menage a trois of fresh fruity berries.
Watermelon Lychee: Sweet lychee accented by fresh, juicy watermelon.
Additional information
| | |
| --- | --- |
| Flavor | Apple Blue Razz, Black Mint, Blue Cotton Candy, Blue Razz Ice, Blue Trio, Blueberry Kiwi Lemon, Citrus Sunrise, Clear, Double Apple, Green Apple Jelly, Icy Mint, Jungle Breeze, Kiwi Fuse, Lemon Mint, Lush Ice, Lush Mango, Mango Berry Ice, Pacific Cooler, Peach Ice, Peach Mango Watermelon, Pear Cotton Candy, Pineapple Apple Pear, Pineapple Coconut Ice, Pomelo Pearl Grape, Rose Grape, Strawberry Banana Ice, Strawberry Ice Cream, Strawberry Pina Colada, Triple Berry Ice, Watermelon Lychee |
| Nicotine Level | |
| Brand | Snowwolf |
FAQs